Lakewood's Magical Musical Moments... "The Flip Side" Of The Winchester Music Hall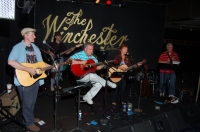 It wasn't long after my dear late mother passed away that I was driving up a Lakewood side street when I spotted a guy carrying a guitar case similar to one that I owned. Stopping the car on impulse, I hailed the guy down, and we enjoyed a few minutes of warm conversation. The guy's name was Mark Ronan, and he invited me to join his friends at the Phoenix Coffee House in Lakewood for their Monday night get-together jam session. Lakewood's Phoenix (which later morphed into the beautiful Root Cafe) at that time was a very small, intimate venue. We all played and sang while sitting tightly around a little table by the front window. I also met Mark's friend, Jack Mizenko, and some of the other members of a group of musicians called "The Flip Side," but was never actually able to hear them perform at that time.
What I can tell you is this: Jack and Mark took me in when my very soul was torn asunder by my Mom's death. They befriended me and accepted me, and those Monday nights at the Phoenix marked a wonderful time in my life that I'll never, ever forget. It was inspiring in the extreme to be able to sit in with such a creative group of singer-songwriters. As time passed, some of us did other events around town for the community, including several nostalgic and fun folk music afternoon sing-a-longs at the Lakewood Library.
What I would have done without Jack and Mark's friendship, I have no idea. But... I never did have the chance to hear their band.
Meanwhile, on the other side of town, Jim Mileti and his wife Rebecca had something else altogether going on, and to me it remains one of the Cleveland area's finest musical assets (and quite possibly the best musical venue that I've ever been in!). That place, of course, is The Winchester Music Hall.
Many of you know that I've been around music for a very long time. I've been to, or played music in, just about every kind of place that you might imagine. Here in the Cleveland area, it seems that we've always had cool places to go to hear great music. Whether your taste runs to ethnic, blues, cool jazz, or of course rock and roll, there's no doubt about it in my mind that we've had some fine places to hang out at over the years.
The Winchester Music Hall (a Lakewood attraction since 2002), however, is one of those really special places that real musicians just can't get enough of. Jim and Rebecca have done everything possible to transform The Winchester into a first-class musical environment, making it possible to enjoy the very best in musical entertainment. You'll enjoy abundant seating, whether in chairs or at tables. The sound system is crystal-clear, and the relatively low ceiling provides excellent acoustic properties. There's really not a bad seat in the place, and the icing on the cake is the type and quality of absolutely astonishing entertainment that Jimmy brings into town. The Winchester's list of musical offerings past, present, and future represents some of the finest names in music, from an eclectic variety of styles. Many artists that you once had to squint to see in large stadiums are enjoying the intimate atmosphere that The Winchester provides.
Probably the first artist I saw at The Winchester Music Hall was Pete Best. The former Beatle drummer, who lost his position in that band to Ringo, had assembled a first-class band of his own and was touring again. For any of us who lived through the '60's, it was a terrific opportunity to hear from a rock and roll legend up close. (And Pete's band, as well as his drumming skills, were absolutely magnificent!) Afterwards, there was the opportunity to meet and greet Pete, and talk personally with him about his many adventures. Pete not only spoke at length with me but with any fan who wanted to talk with him. The Winchester Music Hall is the kind of place where that sort of thing can happen. The Winchester just lends itself to being a great interactive venue between the artist and the fans.
Anyway, last night I heard that Jack and Mark's group "The Flip Side" was being featured at The Winchester Music Hall, so down I went to see them. The great thing about The Winchester for Lakewoodites is that it's only minutes away. Parking can sometimes be a bit of a challenge, but that's an old Lakewood story anyway. "The Flip Side" was celebrating the "3rd Anniversary" of their CD, and wowie, what a group they are! The members played guitar, bass, harmonica, and mandolin and exhibited extraordinarily clean and tight vocal harmonies as they kept their audience on the edge of their seats with eclectic and professionally presented musical styles and offerings. Had I never known Jack or Mark personally, please be assured that I would have still given their group just as glowing a review here, and those of you who know me well know that would be the case!
It was great to finally be able to catch a hard-working dedicated bunch of wonderful musicians at such an outstanding place like The Winchester Music Hall! What an outstanding night, indeed! The pulse of this city beats so much stronger because of events like these. Find out more about The Winchester's many exciting upcoming events and featured artists online at www.thewinchester.net. You can learn more about "The Flip Side" at www.heartheflipside.com.
Read More on Pulse of the City
Volume 7, Issue 15, Posted 7:38 AM, 07.27.2011