Watermelon, Summer's Sweet Relief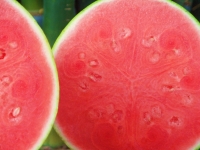 Many of us have seen the 'patters', the 'thumpers' and the melon 'knockers' standing in the produce section with puzzled and worried faces. While wondering if they will hear the magical sound of ripeness, as they listen for the echo from the watermelon's inner deliciousness. What if our hearing is bad? How do you know you've got a good one?
I asked a few farmers and self proclaimed melon connoisseurs about how to pick a ripe melon. They told me that the watermelon should be large and robustly round with wide and evenly spaced stripes across it. There should be a yellowish white patch on the flattest part of the fruit indicating that the melon has been sitting in the sun, thus the name 'sunspot'. You can also check the end of the watermelon where it was disconnected from the vine and check to see if the cord is withered or brownish colored meaning that it was vine ripened to a mature age.
Watermelons should not have deep gashes, pits, fissures or holes. The rind should not be soft or give to pressure, such as a ripe cantaloupe or other melon; it should be firm and smooth. Do not purchase fruit that has bunched stripes that suddenly expand; this has not reached its growth potential. Identifying this pattern is easier than it sounds.
Speaking of sound, if you have a hankering to hear your fruit and nothing but the ripest tunes will do, well then, by all means thump away. Follow the directions above to choose a few candidates and then have a 'thump off'. Listen for deep tones that don't echo too much, for a dense melon may symbolize mealy/grainy flesh.
If you've done all of this and still have no clue, the sweat is starting to bead on your forehead as you contemplate walking away in fear of failure, just pause. Go to the cut fruit section and check out the sliced pieces to see if they look yummy. This will at least give you some insight into the shipment that you have to choose from.
If all else fails…go to your local open air market and buy it by the slice, or have them slice one for you. Don't forget the wet-naps!
Kimberly Bowman
I am a memeber of the Lakewood community whom has lived in Cleveland in the past. I love to observe and I also love to talk/speak. I research what I am curious about, then share that knowledge.
Read More on Other
Volume 7, Issue 14, Posted 8:15 AM, 07.13.2011