Natural Medicine Clinic A Natural Fit For Lakewood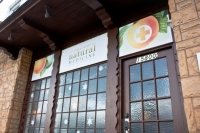 It's no surprise to the residents of Lakewood that we are a health-conscious town. We have yoga studios, massotherapy clinics, chiropractic offices, reiki masters, a holistic pet supply store, cafés dishing up local organic fare, not one but two thriving seasonal farmers' markets, and a landmark independent grocery store specializing in all things organic, vegan, and gluten-free. We like our health with a holistic flavor and our businesses reflect that. So, when Dr. Katherine Caputo, a naturopathic physician, moved to the Cleveland area last fall, she knew right away that Lakewood would be the best community in which to open up her private practice, Great Lakes Natural Medicine.
Dr. Caputo opened the doors to her natural medicine clinic early this year with the dream of bringing increased access to qualified natural health care to the residents of the Cleveland metro area. While holistic health care is gaining popularity within the country as a whole, access to naturopathic physicians is a rarity in Northeast Ohio and the Midwest in general. "When I set out to start my practice, I knew that I wanted to go somewhere that I was needed," says Dr. Caputo, who attended medical school at the National College of Natural Medicine in Portland, Oregon, one of only four accredited schools of naturopathic medicine in the US. The landscape for naturopathic medicine in Ohio is a bit rocky, as the state does not yet license naturopathic physicians as the primary care doctors they are trained to be. Dr. Caputo maintains her primary care license in Oregon and operates in Ohio as more of an expert holistic wellness consultant than as a primary care doctor. "I am trained and licensed in Oregon to prescribe pharmaceuticals, order and interpret labs and imaging, and even perform minor surgery, but because I am choosing to serve the people of Ohio, I am not currently able to offer those services," says Dr. Caputo. "However, most people seek out naturopathic health care because they wish to avoid the conventional approach of drugs and surgery. I enjoy being able to focus on using the tools that really lead to true and lasting health such as nutrition, botanical medicine, homeopathy, and other forms of centuries-old natural healing." One of the main principles of naturopathic medicine is to "find and treat the cause," and Dr. Caputo describes this as being the most rewarding aspect of her job. "We can always be asking 'why?'--'Why do you have high cholesterol?' for example. It certainly isn't because you have some sort of pharmaceutical deficiency. My job as a naturopathic doctor is to always be seeking to find and address the underlying cause of my patients' health concerns. Until you stop suppressing the symptoms and start addressing the cause, you can never achieve true health. And that's what naturopathic physicians do best."
Great Lakes Natural Medicine is located at 15800 Detroit Avenue and can be reached by phone at 216-269-3876. Dr. Caputo enjoys working with patients of all ages, genders, and walks of life and has special expertise in dealing with health issues pertaining to women's health, fertility, pregnancy, pediatrics, and environmental medicine. She is excited to be a new addition to Northeast Ohio's natural medicine scene and hopes to help put Lakewood on the map as a top-notch place to find excellent holistic health care. To learn more about the clinic and Dr. Caputo, visit www.GreatLakesNaturalMedicine.com.

David W. Drum
Dr. Katherine Caputo is a naturopathic physician and owner of Great Lakes Natural Medicine, a Lakewood-based holistic health clinic.
Read More on Lakewood Health Care
Volume 7, Issue 14, Posted 8:25 AM, 07.13.2011