The Lakewood Observer: 150 Issues Ago/ The Civil War: 150 Years Ago.. (Not A Great Deal Of Difference, Was There?)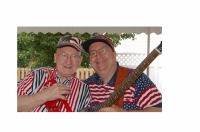 I guess you'd just have to have lived here at the time...Back in 2003, Lakewood was on the brink of its own little civil war.
Let's face it. There's always been a quiet, generally polite tension in this city between the different factions who live here. Whether that tension happened to fall along political, cultural, geographic, racial, demographic, ethnic, or economic lines, historically at least, cool-headed Lakewoodites were usually able to steer a middle ground, prior to what would become known as the "West End" issue.
At that particular moment in time, the gloves came off in our city. See, there was a strong feeling among some people back then that Lakewood needed a real economic shot in the arm, and so some felt our city needed to have a beautiful and modern "lifestyle center" built in Lakewood's West End. For a while, it seemed the development of that center was a virtually unstoppable juggernaut.
There was just one problem, however, and that was with an issue called "eminent domain." Some private homes and properties would need to be forcibly taken by the city to make that development happen as it was envisioned. As the story unfolded, some homeowners agreed to sell, while others dug in their heels and fought the concept of a forced sale. The word "blight" had begun to be used as a rationale for the city to buy up some of Lakewood's beautiful homes that stood near the edge of the Rocky River valley, and that really touched a nerve with many Lakewoodites.
A referendum was placed on the ballot, and the West End development was ultimately stopped in its tracks in November of 2003. At the conclusion of that election, Lakewood had a new mayor and had attracted the attention of the national news media. In fact, it was then a bitterly divided city in seemingly terminal turmoil, arguably crumbling into a lost and unlamented mediocrity.
The past 20 years or so had not been kind to Lakewood, in any case. Pejorative comments about our city could be heard, as we lost some 20% of our population to the outer 'burbs and elsewhere. Our crumbling older homes, aging business properties, and infrastructure problems all contributed to a perception that Lakewood was well on the way towards going down the drain.
When Jim O'Bryan and his friends sat down back then at that famous "little table at Wu's" to discuss how they might help to keep this city from sliding into a terminal abyss, the idea for the Lakewood Observer Project came into focus. More and more people, after all, were using the internet and chat rooms, so why not develop a city chat room online? Unlike some chat rooms, however, the Observer people insisted that real names be used. Although some were reluctant to believe that type of exercise could work, ultimately the Lakewood Observer Project indeed began, having both print and online components. Terms like "hyper-local journalism" and "building the brand" for Lakewood both helped to describe what was going on here. The Lakewood Observer Project was officially launched on June 28, 2005. It was hoped that the Observer Project might help to get Lakewood's people talking with each other again, and constructively so as well. Talking, after all, is a much better exercise than finger-pointing or screaming.
As with any project conceived by human beings, the Observer Project experienced more than a few bumps in the road along the way, and at times has picked up a few battle scars. Still, all in all, what happened here in Lakewood has been nothing short of remarkable. The thing is, people DID start talking with each other, both online and in-person. People did start writing about Lakewood and started submitting their efforts for publication in the Lakewood Observer paper. Writers and photographers virtually popped out of the woodwork, as the Observer Project and other Lakewood online communicative efforts took flight. People started meeting each other in the local restaurants and coffee houses, and potential ideas began to be developed and expanded into viable community visions, many of which later became realities.
All of a sudden, it started to be really fun and exciting to live in Lakewood again. People started to WANT to live here. Scores of new businesses began to flock into the city, and a number of new developments began and were welcomed. New schools were built. The library was rebuilt. Homes were spruced up. The downtown started getting a face lift, and suddenly our city once again became a favored destination.
Nowadays, the concept of the Observer Project has grown and expanded to Cleveland Heights/University Heights, Parma/ Parma Heights/Seven Hills, Collinwood, Bay Village, and elsewhere, as more and more communities begin to realize the value of interpersonal community communication and media empowerment for the "masses."
When people start to get together and talk (instead of squawk), good stuff indeed happens. So happy anniversary to the Lakewood Observer, and to your readers, writers, supporters, and online participants. Thanks for helping Lakewood become a beacon of light to our surrounding communities and to the world.
For the past 150 issues, and hopefully for many more to come, thanks for helping to measure the pulse of this city.
Read More on Pulse of the City
Volume 7, Issue 13, Posted 8:02 AM, 06.29.2011