Guitarist Victor Samalot To Perform At Lakewood Library May 15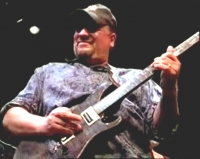 What could be better on a Sunday afternoon in May than a mellow hour of beautiful music performed by a guitarist of rare talent? Victor Samalot will grace the Lakewood Public Library Auditorium on May 15 at 2 p.m. with his unique blend of jazz, rock and fusion.
Samalot has been playing acoustic and electric guitar for over 25 years. In addition to being an independent recording artist, he has been featured on compilations with other musicians. In 1994, he co-founded the jazz, rock fusion group Rare Blend with Bobbi Holt. Over the years, the band expanded from a duo to a quartet and opened for national acts such as David Sanborn, Special EFX, and Spyro Gyra.
Although Rare Blend continues to record music and play at venues in the Cleveland area, Samalot also began a solo career in 2009. He performs solo instrumental guitar inspired by jazz, Latin, acoustic rock, ambient and world rhythms. His is a fresh tapestry of compositions, original in structure and improvisation. Samalot covers artists such as Santana, Jeff Beck and Eric Clapton, in addition to performing some original compositions. He recently recorded a solo acoustic CD.
Samalot's music may be familiar to Lakewood fans through his recent performances at the Root and Beck Café in Lakewood. Those who wish to see a multi-talented performer who's been jazzing up the Northeast Ohio music scene for two decades should stop by the Lakewood Library at 15425 Detroit Avenue on May 15 for the 2 p.m. show. All programs are free and open to the public. This event is generously funded by Cuyahoga County residents through Cuyahoga Arts and Culture and the Friends of Lakewood Public Library.
Read More on Library
Volume 7, Issue 9, Posted 11:56 AM, 05.03.2011