Speech, Music, Visual Arts Winners Honored By Rotary Club On April 11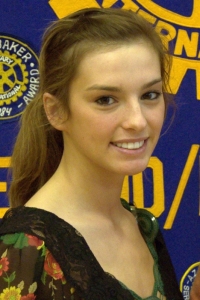 Winners of the Rotary 66th annual Music, Speech and Visual Arts Contest were honored at an awards ceremony April 11 at the Beck Center for the Arts.
Sponsored by the Rotary Club of Lakewood & Rocky River, the competition showcases the incredible talents of students attending one of the five high schools in Lakewood and Rocky River.
"This annual event is a wonderful way to acknowledge the talents of our youth," said Ed Gallagher, Beck Center Director of Education, "and the quality work of the participants truly shows that the arts and creativity are alive and well in our community." The Beck Center is a longstanding partner with the Rotary club for this competition.
The winners received congratulations and prize money from Matt Daugherty, Rotary club president. "This contest is just one of the ways for Rotary to encourage and support our local youth," said Mr. Daugherty. "We are dedicated to supporting educational opportunities and programs for youth and these contests are just one way that Rotary continues to meet its mission."
Sarah Gulasy of Magnificat High School was the speech contest winner. Her topic was "Self Confidence in Youth." Second place went to Juan Valtierrez, Lutheran West, and third place to Deven Middleton, Lakewood High School.
The speech contest was held in two parts with the semi-finals taking place at Beck Center on March 19 and the finals at the Rotary meeting on April 4. Speeches must be of original content and be based on "The Four Way Test of Rotary" which asks, "Is it the truth, Is it fair to all concerned, Will it build goodwill and better friendships, and Will it be beneficial to all concerned?"
Ms. Gulasy will go on to compete in the Rotary District 6630 speech contest later this month.
Alberto Rodriguez of Lakewood High School captured first place in the music contest with a bass solo performance of Sonata in g minor (movements I & IV) by H. Eccles. Vocalist Natalie Aloi, Rocky River High School, placed second, and vocalist Rebecca Borland, Lakewood High School, placed third. The contest, which follows the judging standards set by the Ohio Music Education Association, was held on April 9.
Visual arts winners were Nicole Samanich, Magnificat High School, first place; Peter Barlow, Lakewood High School, second place; Dan Cecora, St. Edward High School, third place. Honorable mentions went to Maureen MacGregor, Lakewood High School; Joseph Misiariewicz, St. Edward High School; and Marisa De Roma, Rocky River High School. Special recognition was given to Lydia Rhoads and Danielle Curran, both from Lakewood High School.
Judging for the visual arts portion took place in late March and over 112 pieces, of numerous styles employing various media, were submitted by all five schools. The exhibit features 72 of the pieces and ranges from large ceramic chess boards to creative self portraits.
Awards range from $500 for first place to $100 for third place. Funds for the awards are provided each year by the club's charitable foundation. Foundation assets grow as the result of gifts, donations and bequests by members and friends of the club.
The club was chartered in 1926. Rotary International is the world's first service club organization, with more than 1.2 million members in 33,000 clubs in more than 160 countries worldwide. RI's polio eradication project, begun in 1985, has eliminated polio in all but four countries, the lowest in history.
Information about the club is available at www.lakewoodrockyriverrotary.org.
The contest was once again supported by FFL Investments Services located at First Federal of Lakewood.
Lynn Donaldson
Rotary Club of Lakewood & Rocky River
Read More on Civic Groups
Volume 7, Issue 8, Posted 8:28 AM, 04.20.2011