Lest We Forget... Our Forgotten Veterans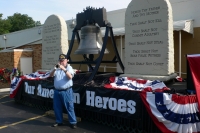 I've written about my dad, Robert Rice, several times on these pages, most recently around Father's Day. Dad is 90 years young, and to many, he seems to be years younger. Dad is still quick to smile and even quicker to be a friend to others.
Dad has given a lifetime to kids. It was said that if you went to the old Harding School and passed within 20 feet of the band room door, Dad would stick a horn in your hand. There was a great deal of truth in that statement. Dad was, and is, all about helping young people maximize their potential through the world of music. Since Dad's high school years, he's taught thousands of young Lakewoodites and others how to play music. Still does, as a matter of fact, as a volunteer with the Lakewood Schools. It seems as if he's always worked with kids.
Except for four years and a month, that is.
That was back when Dad was drafted into the Army, not long before America entered WWII. He remained in the service until after the war was over. Like every other veteran, he served his country, and did as he was told. For most of his service time, he was in an Army band. He wrote musical arrangements, played the trumpet, and sang.
When the war was over, like millions of other GI's, Dad went back to school and learned a trade. Eventually, he became a school music teacher. Over the years, he has continued to play the trumpet in jazz bands and for school and community events. During the war, Dad told me that he played "Taps" hundreds of times. They used Dad a lot for that, because apparently, he was one of those buglers who did not flinch or show emotions at the graveside. Dad was able to hold back his tears and emotions...at least until later.
Sometimes, these days, all he can see are those graves...
Nowadays, every few months, we go to the skin doctor to have more growths cut from Dad's face as a result of all those years being out in the hot sun. Those small service caps never really covered the face and the ears. That's just one of many ways that Dad's still paying the price for those hot sunny days in uniform. Dad never ever complains about any of that, though. As he's told me, his sacrifices were nothing compared to those of those brothers-in-arms that he laid to rest under the cold green sod. In fact, Dad still plays "Taps" for veterans, from time to time.
As we now close the chapter of combat operations in Iraq, it is well that we recall the sacrifices of so many Americans, both living and deceased, who gave immeasurably to our country in her time of need. So many of those veterans who still can, still give their all for others. Groups like the American Legion and the Veterans of Foreign Wars continue to inspire others through the lives and works of America's veterans.
Last year, Dad and I wrote a full length band march honoring America's veterans. As there apparently never was a march honoring these vets, we presented it to the United States, through Congressman Dennis Kucinich's office. A copy was also sent to President Barack Obama.
We have also written marches for Lakewood High School, Lakewood Catholic Academy, St. Edward High School, and Garfield School, as well as one for the All-Ohio State Fair Band (Dad had also previously written "The Harding March"). All of these were played by those respective groups, and they all seem to have been warmly appreciated.
Dad's "American Veterans' Last Salute March," with lyrics, has already been played and sung by Garfield School as part of their Veteran's Day remembrance for area vets and their families. As far as our government goes, however? Not a card, not an acknowledgement, not even a simple "thank you" has come our way. (Except personally, from Congressman Kucinich, of course.) Not one official word yet from our government though..not one single word....period.
It's not as if we wanted money, or cared about personal recognition either, so this is certainly not about sour grapes here. This march is for the United States veterans, to be played by any band wishing to honor American vets. Where is the recognition for our veterans? Are they being forgotten? Have they been forgotten?
This is not just about Dad, as a forgotten WWII vet, either. Right now there are thousands of returning veterans, many of whom have been wounded and maimed for life. Are they being remembered and honored enough by our government?
We recently sent a Canadian version of the veterans march to some of our friends in the "True North." After all, they've got plenty of vets too, many of whom have recently served shoulder-to-shoulder with our own fine men and women. Maybe that country, at least, will remember its vets better than we seem to be doing here.
Dad hopes that once, at least once before he dies, he will be able to hear one of his old Army bands play his march, and especially to hear the lyrics sung. I do too. At the age of 90, I suspect that he may not have that long to wait for this to happen.
Maybe you can help out. Let our government leaders know that our veterans need to be remembered always, and not just with a song either.
The American Veterans' Last Salute March
Copyright 2009
Robert and Gary Rice

American vets! American vets! American veterans are we!
For all of these days, we always will praise,
American Liberty!
Wherever we go, our purpose we'll show,
a message that we shall all send,
that 'till at the end of our days on this earth,
Americans we'll defend!
And we remember others. We will remember missing ones!
In lands, across the waters, or in the graves that they have won!
And we remember others. We will recall the sick and maimed!
For at the end, we're all together, and we're prepared to serve again!
We're Air Force, and we're the Navy! And we defend the skies and seas so blue!
And Coast Guard, and the Marine Corps, we'll march again to honor you!
And Merchant Marine delivers! The Army serves on every shore!
We'll give a last salute to veterans, to all of those who've gone before!
Read More on Pulse of the City
Volume 6, Issue 19, Posted 8:25 AM, 09.22.2010