"This Is NOT About Me!" (Jim's remark, when I told him that I wanted to write this column) "Obie"...Your Publisher, Jim O'Bryan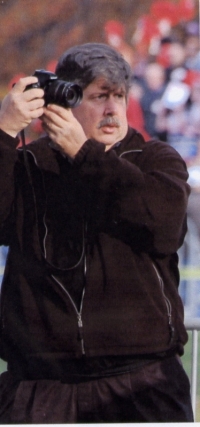 I don't know about you, but sometimes I ask myself how well I know some of my friends. In a sense, I suppose we could ask that question about most of our friends. Once we attempt to move beyond the superficial, people can become sublime and mysterious indeed.
If there's one question I am frequently asked regarding this paper, it would be about your paper's publisher, Jim O'Bryan. Throughout much of this paper's history, Jim has been content to remain in the background, letting others provide the opinions and have the community limelight. Still, I thought it might be time to let you know a little more about this amazing person referred to by some of his friends simply as "Obie."
I've had a dickens of a time getting Jim to agree to running a column about him. As he said when I told him that I wanted to do this column: "This is not about me!" Well, perhaps not, Jim, but at least this particular column is about you. I think Lakewood would appreciate knowing more about the man who started all of this.
But first, a little background as to how this whole Observer Project came into being.
The Lakewood Observer mission was born out of the smoldering embers of a heated discussion and subsequent election that threatened to tear Lakewood apart in a virtual civil war. Some years back, it seems there was a push to develop Lakewood's "West End" into an economic extravaganza, with upscale shopping and some beautiful destination architecture. The principal difficulty encountered, however, was that a good number of Lakewood homes would need to be taken by governmental fiat (by a "blight" designation) and razed in order to make the "West End" dream come true (at times over the strenuous objections of some of the homeowners). Lakewood even made the national news with those questions of eminent domain and blight.
Finally there was a local election, and those opposing the West End development prevailed. After the election, there were those who felt that something needed to be done in order to help this city come back together, as that gut-wrenching debate had virtually ripped the city apart. A group then formed to figure out ways that might help Lakewood attempt to rebuild its image out of the ruins of division. The Lakewood Observer Project was the result of that group's efforts.
Jim says the original concept for the Lakewood Observer Project was provided by Ken Warren, Steve Davis, and himself. Jim then called upon a number of his friends, some going back to grade school days, at McKinley Elementry School, to assist with the project's development.
(While at LHS, Jim informs me that he was part of a Group 30 program with some of those old friends, where he helped to develop one of the first radio stations in a high school. Jim's interest in public media goes back a long way.)
Jim comprises that unique mixture of change-the-world optimism and real world pragmatism that distinguishes the character of so many exceptional people. Sometimes, Jim's visions can be seen by some as hopelessly quixotic and idealistic. At other times, he is able to cut to the heartfelt truth of the matter like that proverbial hot knife going through butter. A gentle bear-like giant of a man, Jim seems to be cut from the cloth of a much earlier time in this country when hard work, altruistic love for a community, and unrelenting civil persuasion could change the world for the better.
Jim lost his parents when he was a young man. He was forced to grow up quickly, and perhaps even Jim might agree that maybe, just maybe, he never really did. Like so many of his peers, a kind of arrested development seemed to overcoat so many of those idealistic young people who, as George Bernard Shaw and later Robert Kennedy said, saw things that never were, and asked "Why not?"
A true visionary in every sense of the word, Jim O'Bryan is as much or more a do-er as he is a dreamer. Jim indeed appears to be a man on a save-the-world mission. One of Lakewood's best known entrapaneuers, and alway willing to help others establish their dream in business. He was given the honor of being named Lakewood Business Person of the Year last year, Jim finally cut his hair, put on a tie, and became the toast of the town, and everybody thought that Jimmy had finally arrived at the core of "Establishment Lakewood."
Yeah, right.
A man like Jim follows his own star. Just ask him. Jim says that he cuts his hair once a year, whether he needs to or not.
A self-made businessman (who owns four businesses in Lakewood), Jim, along with his wonderful wife, Deb, has blazed trails of achievement through Lakewood that can only be described as historic. Often seemingly outrageous to a fault, Jim was the originator of the on-line virtual T-shirt museum and his star-spangled Isetta car's paint job, among many other visionary projects.
Along with that group of visionary Lakewoodite friends of his, Jim did indeed help to conceptualize and put into motion this dynamic and ever-changing entity called the Lakewood Observer Project. A combination of an utterly democratic, everyone-can-write-for-it community paper with an online chat-and-news room called the Observation Deck, the Observer project has helped thousands of Lakewood residents get to know others (and themselves) so much better.
At the same time, there have been numerous bumps in the road, particularly with those online (real name, "own your own ideas") chat room "Observation Deck" discussions that Jim likes to describe as "word jazz." On more than one occasion, Jim has started up an online concern on the 'Deck, only to step back, aghast, at the turn taken by the posters. Sometimes, Jim himself can offer strongly-opinionated posts. All too often, however, they have been borne out to carry a ring of fiery truth. At other times, Jim has taken the brunt of some very sharp, and at times severe, criticisms. At all times, however, Jim has shown himself to be an utterly caring and selflessly dedicated person regarding all things Lakewood.
Jim and his crew have also worked to expand the Observer project into other communities. Euclid, Collinwood, Bay Village, as well as Parma, Parma Heights, and Seven Hills (together) all currently have Observer Projects underway, with many more soon to follow. These days, Jim seems to be anywhere and everywhere, tooling around town--either in that ancient little faded-checkerboard-roofed Cooper Mini, or perhaps in his vintage fire-engine red Isetta.
Interesting though, at least to me, is the fact that Jim has not used the pages of this paper more often than he does to express his own editorial point of view about things. To me, that shows an amazing restraint on his part, and also a total willingness to subordinate his own opinions so that the opinions of others would have more space here. To me, that's a class act indeed, coming from a very classy man.
In many ways, Jim remains a mystery man with a heart of gold. Serious health problems hit Jim about a year ago, from which he bounced back more vigorous than ever before. Some have even urged Jim to run for mayor, and he's thought about that possibility seriously, more than once.
A Lakewood High graduate, perhaps of controversy, but also of undeniably great love for his city, Jim continues to help us define exactly what constitutes the pulse of this city.


Read More on Pulse of the City
Volume 6, Issue 16, Posted 8:28 AM, 08.11.2010