Those Among Us... Charles Phebus And John Shepherd, Great Americans, Cut From The Same Cloth...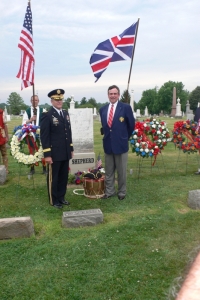 We who live in the Greater Cleveland area often seem to pay little attention to our central city of Cleveland, and often (other than perhaps during some Friday night high school football games) we pay scant attention to the other suburbs around us. Many of my out-of-town friends and family are often amazed to learn that many of us know relatively little about our region and its rich heritage.
Sometimes, it takes an out-of-towner to remind us about some of that history. Such was the case last week, when a Texan came to town.
Charles Phebus wears fancy cowboy boots and a big white ten-gallon hat. A man interested in his family's past, he had learned that his four times great-grandfather, John Shepherd, was buried in the municipal cemetery in North Royalton. On a visit to that cemetery last year, Phebus was dismayed at the condition of the gravestone and ordered a new base to be made for it. He also felt that a special recognition needed to be brought forth for the man buried on that North Royalton hill.
It was like this: John Shepherd was the last survivor of Braddock's Defeat in 1755, and the longest-lived soldier of the American Revolution, living more than 117 years... and he even cut two acres of corn at his North Royalton farm at the age of 112! One of the original founders of North Royalton, Shepherd fought through both the French and Indian War and the American Revolution. All in all, Shepherd survived at least eleven major battles, including Trenton, Princeton, Brandywine and Monmouth. He also wintered with George Washington at Valley Forge, and as Charles told me, he was indeed with Washington all the way.
Over the past year, virtually single-handedly, Charles Phebus has marshaled the forces of the City of North Royalton, the State of Ohio, and numerous historical and civic groups and individuals in a great collaboration of materials and resources so that John Shepherd could be recognized and his memory honored and celebrated. On June 26-7, a stellar weekend filled with activities and attractions was held in North Royalton and Parma for John Shepherd, including pancake breakfasts, a travelling Liberty Bell replica, a parade, a graveside dedication, as well as a 21 gun salute that included reenactors of the American Revolution. As Shepherd had also been a military drummer, I was honored to be the drummer for his graveside ceremony. A beautiful state marker now rests at the entrance to the cemetery on route 82, telling the story of Shepherd's life.
Thanks to the vision of Charles Phebus, Parma, North Royalton and the rest of our region knows that a true American hero lies among us. You can go to the website, www.John Shepherd.US, to read more about this remarkable American patriot.


Read More on Pulse of the City
Volume 6, Issue 14, Posted 8:37 AM, 07.14.2010