LHS Chemistry Classes Mix Science With Art Subhead: A Periodic Table Quilt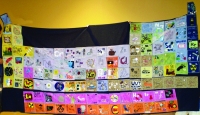 Memorizing the periodic elements was never a fun task for any high school chemistry student. But students in Lynn Eckert's LHS chemistry classes were able to turn learning about the periodic table into a hands-on, artistic experience as they created fabric squares for a 9-foot-by-5-foot quilted periodic elements table. It's a work of art that was a perfect blend of science and art.
Each student was given and element and some colored fabric and asked to cut a 7.5" x 7.5" square. They were then asked to research their element and write a short summary including all the known facts and uses for their element.
Finally, the students were asked to design a unique representation of their element on their square piece of fabric. The 118 pieces of fabric representing the elements is each unique and creative in its own way.
One of Mrs. Eckert's students, Erin Thorpe, pieced all the squares together in a quilt with the help of her mother and grandmother.
"Besides being cross-curricular and individually expressive - it's beautiful!" said Eckert. "I'm so proud of the final product and surprised at its size. I know art (class) does this sort of thing all the time - but this is so cool for my chemistry students."
The students are set to display the quilt at the June 21 Board of Education meeting to show the district Board members how Lakewood students learn in all kinds of ways!
Read More on Schools
Volume 6, Issue 13, Posted 8:18 AM, 06.30.2010