Those Among Us...Dad... The Story Of Robert Rice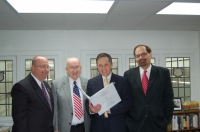 As those great Lakewood summer days approach, I often think of my columns as "wrapping up" like the school year does. That's probably the retired teacher in me, but I do wonder if there are any missing topics that perhaps I should have covered during the past year.
As I've written before, some of the most appreciated columns that I've put on these pages have concerned your friends and neighbors under the heading "Those Among Us." There are, indeed, very special people who walk our streets, shop in our stores, and smile and wave to us as they pass by on our streets.
Often, these people are our senior citizens. These people comprise a sublime resource of stories, information, and just plain fascination for the rest of us regarding how they've lived all those years and what they may have done during that time.

All too often, unfortunately, these kinds of stories end up being written as obituaries, and that is particularly true of America's World War II veterans. According to some reports, they are leaving us now at a death rate of around five thousand souls each day. These are the men, and sometimes women, who often after suffering severe deprivation during the Great Depression went on to free this world from the creeping tentacles of fascism.
My dad is one of those veterans. Rather than writing an obituary about him on some unforgettably sorrowful day, I wanted to write about Dad while we still have him around, so that he, too, might be able to enjoy a pat on the back from some of you over the weeks and months ahead. As Dad would probably be quick to point out, however, that pat on the back needs to be passed around to a great many people in the pulse of this city while they're still around. Heck, maybe we all need a lot more of those back pats, do we not?
But especially those people who have done as much as Dad has.
Robert Rice was born in the front bedroom of a clapboard home high up on a Pennsylvania hillside in 1920. His father was a home decorator and an old-time fiddler, and his mother was a college-trained pianist. That mix of traditional and classical music would help Dad become the fine musician he turned out to be. In his youth, a distinguished music teacher took him under his wing, and Dad learned to play all of the band and orchestra instruments by the time he was a teenager. In addition, he learned about musical composition and arranging, and these skills would serve him well when the clouds of war came to America in 1941.
Drafted into the U.S. Army shortly before war started, Dad was well-positioned to serve his country with his musical talents. He served in an Army band with the Chemical Warfare Service, playing with a number of stars from that time period straight through the war until after the cessation of hostilities in 1945. Discharged for medical reasons in 1945, he completed a course of study to become a piano technician before deciding to return to college to obtain a teaching degree.
Dad met and married a beautiful gal named Elizabeth (Betty) from Alabama during the war, and the two of them made quite a team. They collaborated well with their small business operations and also in the world of entertainment and song writing. Their song, "I'll Step Aside," was but one of many of their creative accomplishments. (This columnist of yours being another of those achievements.)
Our family came to Lakewood in 1958, when Dad accepted a teaching position for the Lakewood Schools. Over the years, Dad directed choirs, bands, and orchestras in a number of Lakewood school buildings, spending most of his time at Harding School. He also directed a number of church choirs around the city, and performed as a professional musician in the Cleveland area for many years. A prolific inventor, Dad was well-known for inventing a musical slide rule, as well as an illuminated keyboard classroom teaching tool. His musical groups were famous for achieving consistently high standards of excellence for the Lakewood Schools. Dad retired from the schools in 1983. In 1997, he was elected to the Lakewood Public Schools Staff Hall of Fame.
Dad continues, at the age of 90 years young, to volunteer with the Lakewood Schools. In 2007, he received a "Robert Rice Day" proclamation from the City of Lakewood, as well as a Congressional Record Recognition from Congressman Dennis Kucinich's office. In 2008, he received our school district's Distinguished Volunteer award, as well as being the PTSA Helping Hands Award Recipient Of The Year for Garfield School.
When Mom passed away in 2004, I needed to get Dad very busy, very quickly in order to take his mind off the grief from her passing. At that point, I taught him about computers and music-writing programs. Dad had already completed a "Harding March" years before, but since 2004, we've also completed band marches for Hillside school where I taught in Seven Hills, as well as for Lakewood's Garfield school, Lakewood High School, Lakewood Catholic Academy, and St. Edward High School, along with a march for the All-Ohio State Fair Band. Most recently we completed a brand new march for America's veterans called "The American Veterans' Last Salute March" that we have recently presented to the United States of America.
Dad continues to be actively involved with our community, volunteering weekly with the schools and with Lakewood's Office on Aging. He encourages each and every Lakewoodite to get involved with their town as well and help to continue to make the pulse of our city strong and vibrant.
Read More on Pulse of the City
Volume 6, Issue 12, Posted 8:31 AM, 06.16.2010