1970- "Let Us Not Look Back In Anger, Nor Forward In Fear, But Around Us In Awareness" -Anon.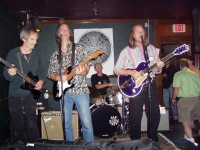 It all happened, as they say, in the twinkling of an eye. When the ball dropped on Times Square on January 1st, 1970, the "Sixties" were over...and none too soon, for many of us.

Jimi Hendrix's Band of Gypsies, along with Buddy Miles, opened the year by performing at New York's Fillmore East on New Year's Eve, while Guy Lombardo's Royal Canadians played uptown at the Waldorf-Astoria. These two musical groups, in a sublime way, helped, at least symbolically, to reflect the cultural differences struggling to prevail in our country in 1970.

For those of us living in Lakewood at that time, it had already been a time of profound change. On the evening of July 4th, 1969, a terrible holiday storm had ripped Lakewood into shreds. People died, trees toppled, and a vastly changed landscape greeted Lakewoodites who crawled out of their basements later that night to see the damage.

Actually, the weather during the 1969-1970 period was pretty much as it usually is around here. Funny though, unlike the current "global warming" theories, more than a few people at that time thought that the earth was actually cooling, and that maybe we were even getting ready for another ice age!

Ironically, both Simon and Garfunkel's song "Bridge Over Troubled Waters" and Edwin Starr's "War" made the top 10 that year, again possibly reflecting the conflicting feelings of the American public at that time. Other top musical hits of 1970 included Guess Who's "American Woman/No Sugar Tonight," The Carpenters' "Close To You," Rare Earth's "Get Ready," B.J. Thomas' "Raindrops Keep Fallin' On My Head," and the Beatles' "Let It Be," among others.

Janis Joplin and Jimi Hendrix both died in 1970, along with actresses Inger Stevens and Gypsy Rose Lee. In February, the "Chicago 7" was found innocent of conspiring to incite riots at the 1968 Democratic National Convention. Also in February, Lakewood's HAZE rock band played at an all-night party for the LHS class of '70 at the Lakewood YMCA.
Change was indeed in the air.
On March 17, American Army officers were charged in the My Lai massacre incident, a tragic event in Vietnam where a number of civilians had been executed. On April 13, a near catastrophic problem in space endangered the mission of the Apollo 13 astronauts.
On April 22, we celebrated our first Earth Day in consideration of the world's pollution and climate issues.

President Nixon had been trying to figure out how to resolve the increasingly unpopular Vietnam War. Originally, he had committed to combat troop reductions, and a policy of "Vietnamization." On April 30, 1970, however, he ordered an escalation of hostilities by ordering the invasion of Cambodia. That action caused high school and college students on campuses around the country to rise up and protest.

On May 4, 1970, at Kent State University, four students were killed by Ohio National Guardsmen, and nine others were wounded. Violence erupted at other campuses, notably at Jackson State College on May 14-15, in Jackson, Mississippi. That cost the lives of two other students with twelve other injuries reported.

In June, there was a raid on the Vietnamese POW camp at Son Tay by American special forces troops, but unfortunately no American prisoners were found, and many still remain missing from that war.

Also in June, the Lakewood High School Class of '70 turned their tassels around and graduated.

Reflecting the birth of the hard rock era, the two rock bands, HAZE and SKIE, battled in Lakewood Park on the evening of July 22nd at the Lakewood Day festivities. Both bands received trophies for their participation in that event. Four of the five members of HAZE (and, at one time, two members of SKIE) had been recent graduates of the LHS class of '70.

On July 30, George Szell, the highly esteemed director of the Cleveland Orchestra, passed away. Also in July, Thor Heyerdahl crossed the Atlantic in his Ra II boat.

On September 26, The President's Commission on Campus Unrest, also referred to as the Scranton Commission, investigated the Kent State killings and found that "the indiscriminate firing of rifles into a crowd of students and the deaths that followed were unnecessary, unwarranted, and inexcusable." In October, the Russian writer Alexandr Solzhenitsyn won a Nobel prize in literature.
By the way, gasoline back then was about 35 cents a gallon. Our average household income was below $9,000 a year, and the price of a stamp (in those pre-internet days) was 6 cents. Many Lakewood homes went for 20k or less on the market.

Some TV shows that were popular in 1970 included the "Mary Tyler Moore Show," "Six Million Dollar Man," "High Chaparral," "All in the Family," "Happy Days," "Welcome Back Kotter," "Baa Baa Black Sheep," "Mod Squad," Charlie's Angels," and "Kung Fu."

At Lakewood High School, the 1969-1970 school year was also a time of change. The new West Wing was under construction, as was the gym out in front of the old building. The school was overflowing with students during this time, as the effects of the baby boom from World War II continued.

By this time in history, students were establishing a serious generational identity of their own. Clothing styles were more and more clique-oriented. There were the surfers, the mods, the greasers, the preps, etc...and everyone was expected to choose, and adhere to, a certain category of dress. By 1970, some young people were starting to experiment with receational drug use, as the counterculture movements became more widespread. During that time, the Civil Rights movement also raised awareness among students regarding the concepts of human rights, dignity, and personal freedoms.

There was also a growing political awareness in the schools. The war in Vietnam, and the ongoing weekly deaths of American soldiers (along with the fact that the military draft was still going strong), all served notice to the males in the LHS class of '70 that they too could be called up to serve in Vietnam's jungles scant months after their graduation. Of course, the recent Woodstock (August 1969) and Altamont (December 1969) rock concerts also served to awaken a dramatic youth consciousness of identity that could only harden into focus when the Kent State shootings erupted in May.

By graduation, America's high school class of 1970 faced an uncertain future obscured by the figurative smoke of their times. Whether that smoke came from a faraway war, or from the blackened smoke that rose from that burning ROTC building on the Kent State campus, or even perhaps (for a few) from those funny looking cigarettes... the hand-holding hippie days were indeed gone forever. From that point on, things were very different in their lives. Those students had to grow up quickly back then and they certainly did. The LHS Class of '70's motto, given above, showed a heroic and mature effort on their part to at least seek balance, equilibrium, and (perhaps most importantly) hope during those times of change.

On Dec 31, Paul McCartney filed suit to dissolve the Beatles. Lest there had been any doubt up to that point, the pulse of the sixties had finally ceased to "beat."

That once-simple beat... had turned into thunder. A new decade had begun.
Read More on Pulse of the City
Volume 6, Issue 8, Posted 8:06 PM, 04.20.2010