Lakewood's Churches... Is The Mainstream Drying Up...And If So, Why?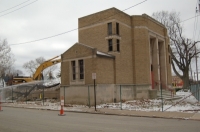 Those of you who follow my columns know that, from time to time, I've included a discussion about faith. Sometimes that discussion has been personal, and other times I've tried to take a wider look at our city and the various faiths that worship here. The bottom line for me would simply be that I hope you all know that I am a firm supporter of a faithful, God-respecting life. Far too many times in my life have I known, or felt, the intervention of something far greater than myself. I am indeed a believer in faith. As well, I have great respect for any house of worship that is sincrely dedicated to God.

I mention this bias to you so that the rest of this column might be framed in that context. I certainly have no interest in wanting to question particular religious practices, but at the same time, I am trying to understand, in a broader framework, what seems to be going wrong with organized religion in America generally, and here in Lakewood, particularly.

That honest and caring people of differing faith traditions have often historically disagreed is well-known. That severe and long-standing prejudices, as well as persecutions, have also occurred in the history of religion are also well-established facts. Whatever one's religious tradition might be, one can generally point to a time when others of their faith tradition were relentlessly hunted down, tortured, or even killed.

In our own country's beginnings, we adopted a special clause in the First Amendment to our Constitution that attempted to insure that one's private faith practices would not be persecuted; and to a great degree, that's been the norm in our country. While there really is no "Wall of Separation" between Church and State (that particular wording is not in the Constitution), we tend to live and let live with our neighbors' faith practices.

Lakewood has, at least until recently, been a fairly representative model of traditional mainstream religious freedom of expression in the American urban environment. Although Lakewood's houses of worship have been primarily Christian, they have represented a diversity of beliefs within that faith tradition. (Our non-Christian neighbors, who have been involved with their own faith traditions, generally established their meeting places in regional settings beyond Lakewood's borders.)

In recent years, "For Sale" signs have appeared on the front of a number of Lakewood Churches, while others have been torn down, or merged with other congregations. At the same time, new or alternative worship experiences like the "Impact" service at Lakewood United Methodist Church, the Cross Point Church meeting at Harding Middle School, the Lakewood New Life Church meeting at (but unaffiliated with) the Lakewood Masonic Temple, and some extra-urban mega-churches seem to be attracting increasing numbers of worshippers. Some of these types of services offer coffee, juice, and cookies, while joyful music and interactive cues are often projected onto big screens, and happy children sometimes roam the aisles. Frankly, some of these newer experiences are "packing them in," so to speak, while older traditional churches seem to be withering on the vine.

Why might that be the case?

That's a question that even trained church leaders debate, but I have a few theories. First, it's an open secret that there's long been a philosophical conflict between some religious points of view and certain elements of contemporary psychological thinking. Some traditional faiths, for example, never seem to arrive at a complete resolution of difficulties that many people have. At some point, on the other hand, psychological therapists often try to assist the beginnings of healing and resolution in a person's life.

Feelings of guilt, discomfort, doubt, and insecurity as to life's "big questions" sometimes can be difficult to resolve with some religious groups, and a kind of negative "co-dependency" can develop that can seem to be entirely at odds with Jesus' message of forgiveness and with moving ahead in one's life. People seek to feel better when they go to a worship service, but sometimes they can end up leaving a church feeling worse than when they came in!

As mainstream churches decline, money woes can also increase at an exponential rate. Constant pulpit talk about money can, and often will, increase as the collection plates get lighter. My grandfather sometimes said of his church that they were more concerned with "what I give, than how I live." I think that his feelings are shared by many frustrated believers these days.

At some point in the '50's and '60's, many mainstream denominations started to emphasize the "social gospel" more (feeding the hungry, saving the world, etc...), while de-emphasizing the traditional Bible-based religious worship experience. From the pulpit, one sometimes heard more about missions and money than they did the Word of God. After a time, frustrated people who were unable to effect change in their churches started to vote their dissatisfactions either with their feet or with their pocketbooks. It wasn't that the "social gospel" was necessarily a bad thing, in and of itself, but let's face it, listening to bad news on television every day is one thing. Hearing more of it on Sunday mornings, as a captive audience, is quite another story. Christians say that they love to tell people about the "good news" of Jesus, but so often, they seem to replace that good news with bad news!

The old joke about churches having their congregants simply "pay, pray, and obey" seemed at one time to be a very real template for some traditional churches that were content to rake in their money without providing either adequate solace or accountability to their congregants. These days, the laity is demanding a more participatory role in their churches, and greater accountability by their leadership. Churches still clinging to the traditional model of "pay, pray, and obey" are finding that not to be as easy to do as it once was.

More people these days are also looking for acceptance, understanding, and even some human flexibility. All too often, when they encounter some traditional churches, they find brick walls and rigid rules, at best circumvented by quiet winks and nods.

As well, there's been the historical "us vs. them" doctrinal mentality that in the past has split up churches, amoeba-like, into more and more denominations. Warm and loving congregational acceptance can change on a dime if a church member starts to openly dissent from the rules of some congregations.

Lastly, the ugly issue of "cover-up" must be included in this type of discussion. While the most sensitive, offensive and damaging cover-ups by church leaders involved the abuse of children, there were also aspects of financial and personal abuses of power that, too many times and with too many churches, were either covered up or hushed away.

While some people, in Christian forgiveness, no doubt wanted to believe that these sins could be forgiven and should perhaps even be forgotten, that's not so easy to do for the victims of these terrible crimes. When basic trust is lost in any case, there goes the whole show. These days, while many if not most churches have procedures in place to minimize some of the mistakes of the past, they still can never change that past, and that is something they must deal with on an ongoing basis.

So, is there a "fix" to the problems of declining mainstream churches? Well, one has to wonder whether these church tragedies might signal some celestial consequence for Lakewood's own lack of faithful stewardship with her many precious religious resources. It would not take a leap of faith to realize that, at very least, Lakewood's faithful need to start thinking about getting back to the fundamentally important aspects of their various faiths. Whatever our personal beliefs might be about the particulars, perhaps a good place to begin our own personal faith rebuilding process is within each of our own hearts (particularly as so many of our earthly houses of faith here in Lakewood crumble into dust).
Once, when I was young, I said something critical about churches. I'll never forget my dear late mom's response to me:
"Gary, they're still the best thing we have on this earth."
Read More on Pulse of the City
Volume 6, Issue 7, Posted 9:23 PM, 04.06.2010