The Importance Of Renewal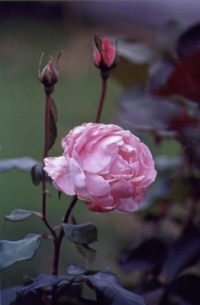 Springtime has finally arrived, and the little sproutings of roses, daffodils and dandelions have commenced in our fair city. Our sidewalks, yards, and gutters have been freed from the incessant snowfalls that marked this past February's experience of living in Lakewood.
Adding to winter's weather conditions...in my own life, I've recently needed a new washer and dryer, as well as a new crown for a troublesome tooth. I lost my longtime family companion parrot Gilligan after about 27 years together, and then, the toilet mysteriously stopped up! As well, for many of us who are past the age of 50, those more frequent trips to the doctor are starting to elicit more frowns than smiles and lollipops.
To say that all these aspects might start to wear a person down would be an understatement.
A friend of mine in the undertaking business tells me that the winter holiday season, and those bleak months that follow, are often accompanied by a spike in depression-related deaths. Need I add that just when we think we're past those wintertime blues, tax time rears its head?
Wow.
Well, all of us face significant issues in our lives, and many people are faced with even more serious ones every single day of their lives. We are so often amazed when we read stories about this person, or that one, who is able to bravely smile through the face of adversity. Perhaps we need to teach people that smiling through their adversities should be the norm, rather than the exception.
Many of those challenges are external to our lives. They are brought on, so often, by situations and circumstances beyond our control. In far too many cases, however, we bring on our own maladies by poor choices and bad habits.
Springtime is traditionally a time for renewal. As the earth seeks to replenish and renew, it becomes vital that we do the same for ourselves. Our own personal renewals can be physical, spiritual, emotional, psychological...you name it, or perhaps best, a combination of all of the above, and more.
Intellectually, we certainly know that we need to re-charge our personal batteries from time to time, but the wearing away process of life can easily cause us to lose sight of the fact that personal renewal must be one of the highest priorities in our lives. We owe it to our Creator, to our friends and family, and particularly to ourselves.
Perhaps communities, too, can be dragged down by the burdens and complexities of life. Like humans, perhaps communities also bring much of their own problems on by poor choices and bad habits. Perhaps communities need to renew as well.
A "community," of course, can be an entire nation, a local city like Lakewood, a church, a club, or even a group of neighbors.
The trouble is, negative thinking seems to feed upon itself. At some point, one has to deliberately break out of the cycle, and that's the neat thing about all of this. We can... and we must make that choice. Our attitude as to how we face up to life's challenges is very much in our own hands, I do believe.
Nature's springtime renewal takes place as naturally as the return of green grass. We, on the other hand, have that free choice as to whether or not to engage the process of renewal in our lives. That's real power, but it also entails significant and very real personal responsibility.
Choose to renew.
The pulse of our city will be made much stronger by your choice.
Read More on Pulse of the City
Volume 6, Issue 6, Posted 8:17 AM, 03.24.2010