LEAF 2010 Open House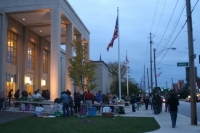 Lakewood Earth & Food Community (LEAF) will be holding its 2010 Open House on Sunday, March 14th from 2:00 to 5:00 at the main branch of the Lakewood Public Library in the Multipurpose Room. This is your opportunity to get information and ask questions about LEAF programs. There will be representatives from our educational series, bulk buying, community gardening and our Community Supported Agriculture programs (CSA).
You can sign up for the CSAs at the meeting or you can print the applications at www.leafcommunity.org and mail payment (checks made out to LEAF) to: LEAF, PO Box 770374, Lakewood, OH 44107. First week's payment for City Fresh is due with the application and must be received by May 15th. If you are interesting in volunteering this year, please bring your calendar as we will be taking signups for LEAF Night volunteers.
Think Spring and Fresh Local Veggies! LEAF night will continue to be held on Wednesday nights from 5:30 to 8:00 pm on the porch of the Lakewood Public Library. Watch for an announcement of the date for our first LEAF Night in The Lakewood Observer or at www.leafcommunity.org.
Read More on LEAF Community
Volume 6, Issue 4, Posted 8:31 AM, 02.24.2010