A Half-Century Ago... Christmas In Lakewood-1959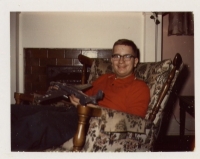 A story only partly fictionalized....
Growing up in wintertime 1950's Lakewood, the first thing that comes to my mind was the snow...and lots of it, too.
My black, gum-rubber, over-the-ankle boots crunched silently through the early evening snowfall that threatened to double its depth in record time. The little black metal hookover-fasteners on those boots were thoroughly encrusted with an icy film as soon as our little family of three walked out of Geiger's. Dad had just picked up a new suit with which he could direct at the Harding winter concert, just a few days ahead. We then entered Carson's Dress Shop, where Mom picked out a beautiful gold trimmed white dress with white gloves accentuated with a gorgeous golden waist-jacket. That ensemble would be perfect for upcoming holiday parties and would show off Mom's equally golden hair.
It was the day after Thanksgiving, 1959, and it was the beginning of the Christmas shopping season.
The ice-laden frosty-framed downtown Lakewood store windows glowed with creative decorations and merchandise displays, and warm enveloping steam rose from the rusting curb grates along Detroit Avenue. Blue and white CTS buses mixed with yellow Checker taxi cabs and the usual rainbow-pastel hues of those huge-finned American cars jostling for parking spaces in the deepening snowfall. Here and there, the ubiquitous yellow "Fallout Shelter" signs were clearly visible. (Just in case the Soviet Union should attack us in the dead of night.) In other suburbs around us and in downtown Cleveland, Nike anti-aircraft missile batteries and their crews were stationed in order to protect us from the Soviet Air Force.
It had been quite a year too. In January, Fidel Castro rolled into Havana and took over Cuba. Alaska and Hawaii had both just been admitted as the 49th and 50th states. "Bozo the Clown," "Rawhide," "Maverick," "The Twilight Zone," "Dennis the Menace," and "Captain Kangaroo" were all on our black-and-white TV screens. "Rocky and His Friends" had just aired for the first time, only a few weeks before (featuring Bullwinkle the moose), as had the western show, "Bonanza." Locally, we watched Dorothy Fuldheim, Tom Haley, Doug Adair, Hugh Danaceau and Howard Hoffman on TV-8's news and informational shows. The "Sound of Music" had just opened on Broadway, and Richard Nixon and Jack Benny had also just played a piano and violin duet together on TV. NASA had just announced plans for the first 110 people to go up into space, and the U.S. test-fired the first Titan intercontinental missile.
Soon though, we trudged across the bustling street to Bailey's Department Store, where I found an excellent model bomber airplane for my weekend project. (I liked the American plane models because they often came in silver, so you didn't have to paint them.) It seemed like everyone in Lakewood was at Bailey's that day, or if not at Bailey's, then just up Warren at Bearden's for some hot chocolate topped with whipped cream, as well as perhaps a juicy cheeseburger with a generous helping of fries... or perhaps, those great onion rings!
It's not long before we find our car, a 1955 black Ford sedan, with tire chains on the back for better traction on Lakewood's ancient red-brick streets. Before long, we are back home on Rosewood Avenue, the parents eager to relax and unwind, and me eager to set up the card table in my bedroom, unroll the oilcloth, and start to work on my airplane model.
It seems that every Christmas was special at our home. There were always dear relatives around. There was an endless flow of golden sugar cookies, decorated with scarlet and green-tinged sprinkles, as well as those soft, chewy peanut-butter cookies with the chocolate drop in the middle. There was always the sublime question as to whether to eat the cookie first, and the chocolate drop last, or vice-versa.
Our church too was always beautifully decorated and filled to overflowing on Christmas Eve. Dad would direct the children's choir, and I would anxiously await the end of the service, because that's when we opened our gifts back home, or most of them, anyway. There was always a special gift for me on Christmas morning though, under the tree--a special gift from Santa. Christmas Day, however, was so busy either visiting others or having others come to our home that we liked most of our family gift openings to be done in the quiet time of Christmas Eve.
That particular Christmas morning, there was a brand-new shiny red and white bike for me, with twin headlights and a horn too! Unfortunately, with the deepening snowfall accumulation, that bike's first ride would have to wait for awhile.
After a great black-tie Christmas dinner with the grandparents, I met my friends outside and we waxed up the runners on our flyer sleds, as well as the undersides of those red metal "flying saucer" dish-sleds. We then made our way to the Metroparks hills, or perhaps one of our parents drove us over to the sledding hill at Memphis and Tiedeman. Either way, fun was indeed had by all. Afterwards, our little red noses and reddened hands were soon warmed, along with our gloves and mittens, in front of crackling fireplaces, or near those clanking steam radiators.
Soon it would be time to return to school and celebrate a new year, and a new decade. The fifties were coming to a close, and the sixties were about to begin. As this young former Pennsylvania boy looked with anxiety out his frosted bedroom window up into the skies for a possible sighting of Santa's sleigh (or maybe Soviet bombers, or maybe even a flying saucer!), he wondered...
...what would the future really be like... for him, and for his world?
Read More on Pulse of the City
Volume 5, Issue 25, Posted 8:51 AM, 12.16.2009