A Flower Blossoms through Concrete: Former Ranger Athlete Looks to Make his Mark In Senior Season….Eyes NFL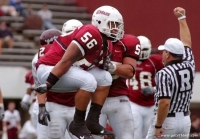 To some, football seems to be a way of recreation, an outlet of sorts. For those who played at competitive levels, it's a way of life. For Brandon Collier it was a refuge from an impoverished life in Cleveland. Collier isn't your typical college senior. Despite his 6'1 285 pound frame, the Senior University of Massachusetts Defensive Tackle and 2004 LHS graduate has a childhood past many could not imagine. Collier came from a single parent household. His three older brothers were in and out of Federal Penitentiaries. For Collier battling the demons of inner-city life, the unstable neighborhoods, the crime and poverty were distractions with a weight and power that would make most want to give in.
Like most inner city kids in the United States, Collier's early years were characterized by chronic poverty, unstable households and an inadequate school system. Against all odds, Collier did not give in. It was not an option. Spurred by an intense desire to succeed, the Collier history emerges from an upbringing where going to jail after high school was a requirement for street credibility.
And "street cred" is how the youth in projects receive respect from their peers, says Emad Baddour, a family friend. Baddour grew up near the West 85th and Detroit projects with Collier. Baddour knows how those troubled areas could ruin kids' lives. "[Brandon] was always a humble kid, quiet, cool kid, he always loved sports." I have seen so many kids grow up in that environment that don't have a chance at making it. I felt Brandon was doomed to the same fate of others, I thought the streets would eventually get to him." But poverty couldn't stop Brandon Collier. Learning from his environment and the mistakes of his older brothers, Collier sought refuge in nearby Lakewood.
"Coming into Lakewood I used to drive by that stadium with the turf field, I thought to myself that I would love to play for this school. Unfortunately, I didn't live in the city at the time." His mother, sensing the trying times ahead if her son didn't have an outlet pushed him to play football.
The move to Lakewood according to Collier's mother Sheryl Morris was expedited by an incident that remains in her memory. "I sent Brandon to the store to buy some butter and he didn't come back for quite a while and I was baking a cake. I was alarmed and upset at him. His face was really sad when he came home and Brandon said "the police threw me down and searched me", stated Collier's mother. " I was distraught and he came to me a few days later and said if you don't get me away from here, I'm just not going to have a life mom." Two to three weeks later Collier arrived in Lakewood. "I kind of forced my mother to move out to Lakewood," said Collier. "She always begged me to play and I told her that I would play if we moved to Lakewood to get a new start."
That fresh start, according to Baddour, was a saving grace. "In these neighborhoods there are no mentors. The mentors are the pimps, drug dealers and hustlers and the prostitutes. This is what these kids see and this is the type of environment Brandon grew up in." When transferring from Lincoln West High School to LHS Collier immediately noticed the difference in environments. "Lakewood was a much more positive environment for me to go to school in," said Collier. "The school was safer, the kids more positive, there was a lot less gang activity and drug dealing."
But there were bumps in the road of transition to Lakewood. "I didn't know what to expect coming into Lakewood," said Collier. "I was an African American kid from the inner city coming out to suburbia. At first I didn't like Lakewood, but football motivated me. It helped the transition go smoothly."
The coaching staff at LHS knew they had something special when Collier first donned the Ranger helmet, says former Ranger Head Coach Kevin Fell. "He was a kid that came to the city with no exposure to football, he barely played and knew nothing about the game," says Fell, whose 14 year run at Lakewood included multiple trips to the state playoffs. "The first year was a little rough. He was growing and learning and adapting to school. He fit right in to the work ethic. He was one of the hardest working kids we had here."
That work ethic and Collier's troubled childhood gave him the gritty tenacity to grind his way through his new environment. And according to Collier adapting to his new environment was smoothed over by the mentorship he received from the coaching staff at LHS. "Coach Fahey was my position coach. He taught me a lot about life, and how to succeed," said Collier. "He was big on teaching me life lessons. He always preached to treat others the way you want to be treated."
After his LHS career was complete, Collier's skill, discipline and inner drive propelled him to Western Reserve Academy, the private prep school in Hudson, Ohio, to hone his academic and athletic skills. At Western Reserve Collier compiled numerous accolades and became a powerful force on the Reserve's defensive line. With his grades improved and his body maturing, Collier accepted a scholarship offer from the University of Massachusetts.
Thus far, his accomplishments at UMASS include 2007 CAA Third team defensive line, and a share of the 2007 Marcell Shipp Iron Minutmen Award. This year Collier was selected as the team captain. Though his immediate future is focused on winning at UMASS, Collier is also looking to improve his NFL draft stock this season. Some NFL draft websites project that Collier will be drafted this April.
Now 23 and in his senior season, the hospitality major is looking to make a lasting mark on the UMASS program in his final year, "I expect a lot of myself." "I feel like I should be a consensus first team All American." Expecting the most indeed, with UMASS at the 4-2 mark, Collier feels that this years aim should be "Nothing short of a national championship" .
A bold statement from the team's defensive captain. "You don't get to where Brandon is now without some inner strength or work ethic and I think his mother had a lot to do with it. She was always one of those parents that if you called her she would call you back," says Kevin Fell.
While many in the program will track the rising star status of Collier on the football field, few will know the great struggles that have fueled his personal growth, against all odds. As Baddour puts it, Collier is "a flower that blossomed through concrete." Though the football program of late hasn't had much success, the story of former Lakewood Ranger Brandon Collier is something the Lakewood football program, and indeed, the City of Lakewood, can be proud of.
Read More on
Volume 5, Issue 21, Posted 12:16 PM, 10.21.2009