Art Explodes Again At The Lakewood Public Library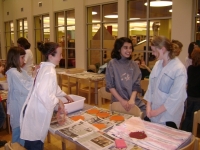 Is there a young artist in your life looking to channel some creative energy? This Fall, the Lakewood Public Library Children's department will once again be offering it's wildly successful Art Explosion program! The program, launched last Spring, was met with an overwhelming response as children in 5th through 8th grade were given the opportunity to explore the world of artmaking.
The focus of this class is not on drawing skills, but on the elements of artmaking itself. Participants learn how to apply lines, shapes, value, spatial elements, texture, and dimension to their art. Each session focuses on a singular element and includes as examples works from classic to contemporary, from the more traditional painters to sculptors, illustrators and even architects. Participants get to experience the entire artmaking process including research, learning vocabulary, warm up exercises, studio time, and even critique sessions. The eight weeks of fun and learning are topped with an art show, which showcases all of the works created throughout the program.
Sound like fun? It is! The second installment of the Lakewood Public Library's Art Explosion program will begin September 22nd and be held every other week until December 1st on Tuesday nights from 7pm to 8:30pm. The program is open to children in 5th through 8th grade. Any and all skill levels are welcome. Children need not have attended last season's program to sign up for this session, but space is very limited at 15 participants, so be sure to register soon. We hope to see you at Art Explosion! To register, stop in at the children and youth services desk, or call (216) 226-8275 ext. 140.
Read More on Library
Volume 5, Issue 17, Posted 3:05 PM, 08.25.2009