Museum guides needed!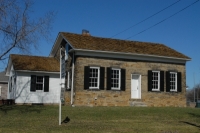 Bring history to life by giving tours of the Oldest Stone House museum. Recently designated Lakewood's first Landmark, the Oldest Stone House museum accurately interprets the everyday life in Rockport Township (now Lakewood) during the 19th century. The museum is operated by the Lakewood Historical Society.
Museum guides, called docents, give tours to school groups and the general public throughout the year. The society will provide all the training and information needed to create a wonderful educational experience for our visitors.
For more information on becoming a museum docent, contact Anne Marie Schiska at 216 221-7343 or educator@lakewoodhistory.org This is a great way to celebrate our community's history and to meet new people!
You've gone by the little stone house in Lakewood Park a million times. Next time, stop in for a tour! The Oldest Stone House museum is open for tours on Wednesdays from 1 p.m. to 4 p.m. and Sundays from 2 p.m. to 5 p.m. and by appointment.
Read More on Historical
Volume 5, Issue 11, Posted 7:00 PM, 06.03.2009