As Ye Do Unto The Least Of These... The Homeless Among Us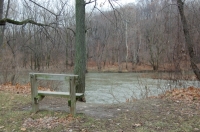 On January 24th, a number of Lakewood's youth once again took to the streets in a homeless awareness sleepout to raise resources for the needful among us. For the past five years, this has been an ongoing project of two of our area churches--Lakewood Congregational and Pilgrim/St. Paul Lutheran.
While this activity has indeed been a wonderful gesture of sacrifice and caring, as a community and a nation we all would probably do well to look at the issues of homelessness and poverty from an even wider perspective.
The roots of American mass need and homelessness can probably be found in the stock market crash of 1929 and in the raging dust-bowl storms of the 1930's in the depleted farmlands of Oklahoma and other parts of the mid-west. Thousands of people took to the highways and railroad boxcars in search of the basic necessities of life.
With the coming of World War II, wartime prosperity put thousands back to work, or into uniforms, to answer the call of the democratic nations. After the war, thousands of ex-military received help from the GI Bill, enabling them to go to school and buy homes for their families.
In the 1950's and '60's, though, a relatively stable period of growth allowed America to be filled with hope for a prosperous future. Freeways connected the country with ribbons of concrete. Jet travel narrowed distances between nations, and color television and modern phone lines allowed the world to come into our living rooms.
It was a rare sight indeed to see the needy and the homeless back then. Why do we see them so often these days?
What happened?
Well, ironically, people who were seeking more rights for the less fortunate might have unwittingly had something to do with the problem's exacerbation.
For example, those of you who have read my column for any length of time know that I had a number of what used to be called "disabilities." When I was going to college, I was discouraged from pursuing a teaching degree because I had a speech impediment. Accordingly, I and others worked to change the thinking of the status quo, so that greater acceptance of those having differences would occur. In 1975, PL-94-142, a federal law recognizing the educational rights of the "disabled," was passed. Other laws protecting the rights of challenged people quickly followed.
The same laws and progressive mindset that allowed me to become a full-time teacher also gave others their "rights," including many who had been formerly institutionalized indefinitely for one reason or another. This thinking also helped to put many of those same people out onto the streets. Many halfway houses, group homes, or other support facilities lost their ongoing funding systems, so thousands of formerly protected people lost the roofs over their heads. Add to those people others suffering from the brutal effects of drug and alcohol abuse, as well as those suffering from economic collapse, and you probably have a good measure of the needy and homeless problem that we face today.
When you think about it, it would not be so difficult to improve the lot of those less fortunate around us. Indeed, others have been doing so for quite some time. Groups like the Cleveland Food Bank, the Lakewood Christian Service Center, the Salvation Army, and the various churches have offered just about everything from basic necessities, to community meals, to temporary overnight facilities. Different governmental groups like Ohio's Bureau of Vocational Rehabilitation offer opportunities for job training and education. Still, much more is needed, both long and short-term, with regard to societal solutions for those among us seeking the basic necessities of life, particularly during these harsh economic times.
Vacant schools and apartment buildings could be transformed into temporary shelters, particularly in the winter. Virtually all restaurants have extra food at the end of each day. Some kind of application of Ohio's "Good Samaritan" law might be made applicable, so that potential legal matters could be dealt with for the property owners or food providers involved. A tax break for hiring security guards might be possible, or perhaps a special fund for hiring public safety officers could be developed to provide security for people staying in these temporary facilities.
So often these days, having a police record can prevent a person from getting a second chance in life. While recognizing that this is a delicate issue, and particularly so for the victims of crime, there nonetheless needs to be a flexible variety of carefully considered options available to former offenders wanting to reenter the workforce. It is important for our society that they do not feel forced to return to a life of crime upon their release from incarceration.
All of this thinking begins with a creative commitment of caring for the plight of the less fortunate among us. I am now in my third year on Lakewood's Community Development Block Grant Committee. We oversee and advise the spending of federally allocated dollars for Lakewood's less fortunate. I look at this volunteer service as giving back what I am able to for so many who have lost so much. Lakewood continues to have an outstanding tradition of assisting people in need. It's particularly great to see so many of our young people also involved with their church groups, those outdoor sleepovers, the H20 program, and so many other constructive youth-related activities and organizations that keep the younger pulse of our city strong and well.
Read More on Pulse of the City
Volume 5, Issue 3, Posted 9:15 PM, 02.10.2009