Lakewood Hospital Opens Newly Renovated Intensive Care Unit and Completes Three-Year Critical Care Renovation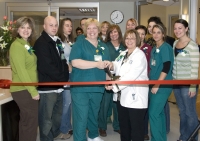 The opening of the newly renovated Intensive Care Unit (ICU) at Lakewood Hospital marks the completion of a three-year critical care construction project, which includes the Coronary Care Unit, Neuro Integrated Care Unit and now, the Intensive Care Unit.
The entire $7 million critical care investment, totaling approximately 25,000 square feet, promotes a comfortable, healing environment for patients who require the specialized care that the critical care areas provide.
The new 11-bed ICU, which serves the needs of the most critically ill patients, received numerous improvements, including technological and comfort upgrades offering a more state-of-the-art setting. The extensive renovations allow the hospital staff to care for patients in a more efficient manner.
"These renovations support our long-term strategy for Lakewood Hospital, which is to continue to invest in this great facility in order to provide the best care for our patients and to continue to offer quality services that best meet our community's needs," says Jack Gustin, President of Lakewood Hospital.
All of the renovated critical care units feature an open floor plan where doctors and nurses have greater visibility of patient rooms. Each patient room has been dramatically improved with new patient monitors, beds and patient lift systems. Additionally, each room is equipped with dialysis capabilities as well as data connectivity and computers to allow for electronic medical record charting. The ICU also includes a newly designed blood gas room allowing for greater accessibility.
"Providing the best patient care in a healing, encouraging and supportive atmosphere is our priority," says Fred DeGrandis, CEO and president of Cleveland Clinic Regional hospitals. "Our investment assures patients and their families that they will be well cared for in a state-of-the-art environment. It is wonderful to have a unit that now better represents the high quality, around-the-clock care that our highly trained and compassionate critical care staff provides."
Lakewood Hospital is a 400-bed acute care hospital that has served the diverse healthcare needs of the City of Lakewood and Cleveland's Westshore communities since 1907. Offering a wide range of health services and education programs for women, men and children, each year Lakewood Hospital provides high-quality and innovative patient care for more than 130,000 patients. In 1997, Lakewood Hospital became part of the Cleveland Clinic health system, a partnership between the Cleveland Clinic and nine community hospitals. www.lakewoodhospital.org
Read More on Lakewood Health Care
Volume 4, Issue 24, Posted 10:27 AM, 11.21.2008