From Odd Girl Out to Woman in Charge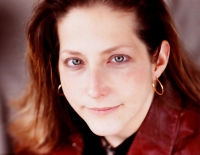 Lakewood Public Library's "Sunday with the Friends" series is proud to present an intimate acoustic concert with singer/songwriter Alexis Antes on Sunday, October 5 at 2:00 p.m. in the Main Library Auditorium. This free event is generously funded by Cuyahoga Arts and Culture and the Friends of Lakewood Public Library.
Alexis has been performing music all her life. She grew up in Lakewood where she was raised in a creative environment by her mother, Bobbie, who is also an accomplished singer/songwriter and musician. Music was a focal point in her home and Alexis taught herself to play the guitar by the time she was twelve by listening to the radio until her chords matched the ones she heard. At age eighteen, she was the youngest founding member of the Cleveland-based folk-pop group, Odd Girl Out. OGO performed sold-out shows throughout the Midwest from 1990 to 1995. The group enjoyed a cult following, particularly on the college scene and received airplay on, and support from, commercial radio stations in the Cleveland market. In 1994, Cleveland Magazine's Readers' Poll voted the group "Favorite Local Band" and "Favorite Local Folk Band".

When the band broke up Alexis tried to start another group but the venture never got off the ground. Instead Antes decided to go solo. She discovered her own voice and began to pursue her own path as both a writer and performer of her own songs. "It's so hard to have to count on someone else," she said. "I just got this idea to start trying to do it myself. It came easier than I thought." Although Alexis already had experience performing, songwriting was uncharted territory for her and so she began with what she knew -- the music. Antes said that most of her ideas started with a melody that she hummed into a tape recorder in her car. "The lyrics tend to come last," she said.
Her debut album, Stronger, was released in 1998. Her songs had solid, honest lyrics along with appealing rhythms. The intensely personal and sincere nature of her songs is what resonated with fans. Scene Magazine wrote, "Listeners are treated to a lone voice in the wilderness, singing introspective, soul-searching ballads about disillusionment, heartache and growth — songs that would not be out of place on a disc by Paula Cole". The CD proved that Alexis was very much in control of her future and that she was comfortable alone in the spotlight. She received an invitation to play at Lilith Fair at Blossom Music Center in 1998.

All Come Down, the follow-up to Stronger, was released in 2003. It is more of a full band effort but it still contains songs with the heartfelt lyrics and melodies that have made Antes a noted songwriter among her contemporaries. The album also features a throw back to the Odd Girl days with a cover of The Supremes song, "My World is Empty Without You," which was one of OGO's popular cover tunes.
In 2004 she performed her first house concert; literally a concert held at a residence. She performed as a support act for Annie Gallup, poet and folk musician from Ann Arbor, MI. Antes said, "It's more active and personal when the audience is literally right on top of the stage. When you're on a big stage and you can't see anything, it's easier to do your thing, but you have a harder time connecting with the audience."
Alexis has shared the stage with such artists as Jewel, Paula Cole, Sarah McLachlan, Sheryl Crow, James Taylor, Melissa Etheridge, Stephen Stills and Dan Fogelberg. She was both nominee and performer at the 1999 Cleveland Scene Music Awards. She was one of five finalists in Time Warner Cable's RoadRunner Rocks battle of the bands and she was accepted into the Indiegrrl national roster of performing members in 2000.
Come experience her unique blend of pop, rock, and folk, at 2 p.m. on Sunday, October 5 in the Main Library Auditorium.
Read More on Library
Volume 4, Issue 20, Posted 10:20 AM, 09.16.2008