Rock Shots at bela dubby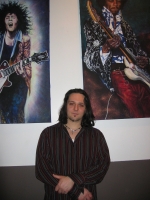 '
Pop Art Show' at bela dubby Rocks Out!
With works of Jimi, Siouxsie, Prince, Iggy, White Stripes, The Clash, Ziggy, Bjork, Blondie and T-Rex, Rock Pop Artist Michael Heasley gives us a show worthy of SOHO. 'Rock Shots', showing this month at bela showcases some of the most popular and influential Rock Icons of the 20th and 21st century. Heasley completed this show in four months time—incredible when considering the size and detail of each piece and that he is a single father raising two small children. Heasley takes inspiration from famed Pop Artists like Jimi Hendrix, who is the subject of one of his pieces. "Everyone has a favorite rock artist they can identify with" says artist Heasley. The highly collectable artist's work delicately balances the energy of celebrity with an intense color palette in vast pop art canvases that dominate the walls of bela dubby. The vivid and dazzling explosions of color and light inherent in these works reflect his desire to project pure optimism – as an alternative to the gritty realism of celebrity. Heasley's pop art bursts forth with intense energy and color, demonstrating street art sensibilities, imbuing his work with a distinctive pop art aesthetic.
What is Pop Art? Comic books, magazines and other modern mediums are the inspiration for Pop Art Artists to create altered and transformed images of instantly recognizable faces. An obsession with celebrity and the changing influence of fame, the images are often warped versions of a very familiar face or versions of the artist themselves put through a filtered lens. Make an effort, and you will see a unique show from an up-and-coming local artist. Heasley currently does not have a website, but if you're interested in his next show or to buy a piece of art, call him at 216.688-0305. This Show runs from through the end of the month. So, come by, grab a cup of coffee (bela dubby's lattes and mochas are the bomb), relax and enjoy "Rock Shots".

Don't Forget to visit your neighborhood galleries!
Beck Center for the Arts17801 Detroit Avenue216.521.2540 bela dubby13221 Madison Avenue216.221.4479
Hours: Tuesday, Wednesday, Thursday 10 am – 10 pm, Friday and Saturday 10am-midnight.
Local Girl Gallery16106 Detroit Avenue216.228.1802
Hours: Tuesday, Wednesday, Thursday 12-5pm, Friday and Saturday, 12-6pm.
Pop Shop Gallery and Studio17020 Madison Avenue216.227.8440
Hours: Monday-Friday 4pm-8pm, Saturday 2pm-6pm.
Wobblefoot Gallery and Frame Studio1662 Mars Avenue216.226.2971
Hours: Tuesday – Friday 10am-6pm, Saturday 10am-4pm.
Art gallery news and event information should be forwarded to gallerywatchgals@yahoo.com. Every effort will be made to include it in our next column.
Read More on Gallery Watch
Volume 4, Issue 2, Posted 9:51 AM, 01.16.2008