Governor Palin Attends Ribbon-Cutting Ceremony at Michael T. George Center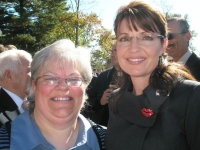 On October 10th, Alaska Governor and Vice-Presidential candidate Sarah Palin attended a ribbon-cutting ceremony at the new Michael T. George Center for Community Living in North Olmsted. This facility, operated by Welcome House, will be serving senior individuals with intellectual and developmental disabilities.
On hand for the ceremony, among other notables, was Cathy Rush, Habilitation Manager for Contract Agencies and Senior Services for Cuyahoga County. Also on hand to snap the great photo of Cathy and Governor Palin was Barbie Luczywo, Secretary/Treasurer of project General Contractor, Whitehouse Construction Company. Cathy just happens to be a longtime dear friend of mine! Congratulations to all concerned for putting together a new facility to serve seniors having exceptional needs in our area!
Read More on Pulse of the City
Volume 4, Issue 22, Posted 8:58 PM, 10.13.2008