On The Street Where You Live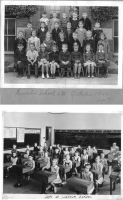 It is not necessarily a phenomenon in Lakewood to have people stay close to home. Folks choose to be near family or stay within the familiar neighborhood where they themselves once played. Two years ago, we relocated within Lakewood and ended up being significantly closer to where my mother grew up on Ethel Avenue. My mother's family left Lakewood when she was only fifteen years old so that her father could fulfill a lifelong dream of becoming a "gentleman farmer out in the country"–Westlake. To me, that's where my roots were. Mom and Dad raised five kids, four boys and a girl, held down jobs, and participated in PTA, music boosters, and their local church.
Mom was an only child so there was not a lot of banter about childhood memories like my father and his sisters had. We had many visits with aunts, uncles, and cousins on my dad's side and the stories of their family life and small town became familiar lore. Because Mom's mom died before I was born, she was never able to enlighten me about my mother's early years.
Over the years of traveling into Lakewood for sticky buns at Miller's, ice cream at Malley's and classes at Beck Center, Mom would sometimes say, "Oh so-and-so used to live there" as we would pass residences or "I used to walk this way to school". In my narcissistic teenage years, I rarely digested what she was referring to.
Years went by and much to my parents' dismay; I grew up. I went to college, made mistakes, had some successes, and in the mid-90's, my father passed away far sooner than any of us were ready. Admittedly, I was a Daddy's Girl. This factor definitely contributed to my ability to really listen to my father's stories, but my mother's stories were typically taken for granted.
My life moved on. I got married and settled down. What place better for a first-time homebuyer than Lakewood? Soon, my husband and I found ourselves charmed by this inner-ring town. We found little parks tucked away. We found restaurants with delicious foods. We found a business opportunity. We found friends and I found a part of my roots I had never known.
Before I could truly appreciate these discoveries, two things happened: Mom had her 70th birthday and I read the book, The Red Tent. At the time of her birthday, I really wanted to do something special and I attempted writing a corny poem outlining significant points in her life. I began interviewing my four older brothers and came to discover that their knowledge of my mother's personal life and childhood stories was even more limited than mine. How could we not know more about her–just HER, not just about life with Dad?
The Red Tent is a novel about Dinah, the only daughter of Jacob (you know the guy who had Joseph with the colorful coat and all those sons). The author, Anita Diamant, creates a story, which helps to fill in the blanks about this woman because as with so many Biblical accounts, the stories that were passed down were about the men. In the prologue, Dinah addresses you as if she has welcomed you to her story. She relates that, "my mothers were proud to give my father so many sons. Sons were a woman's pride and her measure. But the birth of one boy after another was not an unalloyed source of joy in the women's tents. My father boasted about his noisy tribe, and the women loved my brothers, but they longed for daughters too… Daughters eased their mother's burdens–helping with the spinning, the grinding of grain and the endless task of looking after baby boys, who were forever peeing in the corner of the tents, no matter what you told them. But the other reason women wanted daughters was to keep their memories alive."
To say that this struck home was an understatement.
After we relocated, my mother was thrilled to learn that our daughter would attend kindergarten at Lincoln School where she had gone so many years ago. I found that Mom kept a scrapbook with pictures of herself and fellow classmates standing on the very steps my first-born would ascend on her first day of school. I poured over the scrapbooks and I listened. I read through her autograph book containing the names of beloved teachers and friends at Lincoln. I showed off her Horace Mann Hall Monitor pin!
At this point, I decided to take action. I am the daughter. I am the keeper of her memories. We set out on a Saturday afternoon with video camera in hand and we stood on the front steps or in the yard of every house she ever lived in during her childhood. I interviewed her and she spun stories of birthday parties, pets, family coming to visit, and boyfriends.
The home on Ethel Ave. was the end of our "This-Is-Your-Life" tour. The couple who lived there had agreed to let Mom and me inside to extend the trip down memory lane. Armed with photos of the Ethel house circa 1940's we were able to see, compare, and videotape the addition that my grandfather built on the back of the house and the place where a favorite old tree once grew. She walked into her old bedroom for the first time in over 50 years. It was smaller than she remembered. She descended into the basement where she regaled us with stories about the air raid drills during WWII and how the basement windows had to be painted black. I learned my grandfather was the air raid captain on their street and patrolled Ethel Ave. with a hardhat and shovel.
My favorite part and the culmination of events of such a happy day was to discover that somewhere beneath layers of kitchen floor renovations was the initial "R" for her maiden name, Rothfuss. My grandparents had laid their monogram in the linoleum. Rob and Ruth, the couple who now reside in the house were amazed at this tale. We all laughed more when they revealed they had purchased the home from another family named Reilly.
I'm sure that becoming a mother of two daughters of my own has contributed dramatically to my connection with my mother. I like to think that our living where she spent the beginning years of her life jump-started our communication. In hindsight, I wish that I would have listened more but I am so grateful that she is here now to tell me her story. As Dinah says in the prologue, "I wish I had more to tell of my grandmothers. It is terrible how much has been forgotten, which is why, I suppose, remembering seems a holy thing."
Read More on Historical
Volume 3, Issue 9, Posted 5:38 PM, 04.24.2007