Lakewood Historical Society Invitation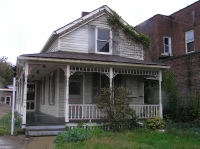 The Lakewood Historical Society is announcing an invitation to a kick off for its new Preservation Fund. This wine-tasting benefit is scheduled for Sunday, June 3, 2007 from 4:30 to 7:00. The event will be held at Rozi's Wine House at 14900 Detroit Avenue. Tickets are $20. Please plan to attend this pleasant event to support a worthy Lakewood cause.

The Preservation Fund was established to preserve and protect Lakewood's historical structural assets and in response to the threatened fate of the historic Hall house on Detroit Avenue. The Hall house is one of the oldest, original structures left on Detroit Avenue. Originally built in 1870, its current owner wants to use the site for parking and has agreed to donate the building. A descendant of the Hall family is willing to place the structure on his property and rehabilitate it. This move would keep the house on Hall land and return the house to its original use as a private residence. The Lakewood Historical Society is looking to raise funds necessary for the move.

In addition to saving the Hall house, the fund will be used to promote and protect Lakewood's most valuable assets - its architecturally significant homes, historic commercial districts and idyllic parks - things vital to Lakewood's distinctive character. By continuing to link our community's past, present and future through the preservation of our built environment, we retain this sense of place as "Lakewood." Preservation, combined with appropriate economic development, is key to maintaining the beauty of our neighborhoods, retaining our high quality of life and keeping our community as a whole vibrant. Lakewood is eligible for the National Register of Historic Places due to the way it was developed. The history of our community and its structures makes our city unique and valuable. It is that value that needs to be protected and preserved.
The Lakewood Historical Society is a non-profit organization dedicated to the the study and preservation of Lakewood's cultural heritage. In addition to operating the Oldest Stone House Museum in Lakewood Park, the Society maintains a photo-file collection, archives of Lakewood memorabilia and hosts events for groups and schoola and special historial programs.

For more information about the Fund and the event, please contact:


The Lakewood Historical Society
Mazie M. Adams, Executive Director
14710 Lake Avenue
Lakewood, OH 44107
lakewoodhistory@bge.net
216-221-7343

Read More on Non-Profit
Volume 3, Issue 10, Posted 10:16 AM, 05.08.2007