PhotoBlogs by Dan Slife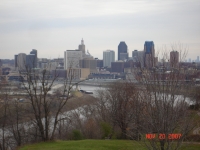 St. Paul to Fargo, North Dakota
(8 Photos)
After spending several days in Madison I made my way to Bismark, North Dakota. The trip would have been a 10 hour drive, had I not stopped at St. Paul, Minnesota and Fargo, North Dakota along the way.
St. Paul is a large, intriguing metropolis. I was not in town long enough to do very much exploring. However, I was lucky enough to run into the executive of a St. Paul non-profit that is working with Mung children and other minorities, advancing a CSA program similar to City Fresh. They too are receiving funding from USDA grants.
St. Paul-Minneapolis is something of a cross between Cleveland and Chicago. I suspect that the shear density of this city with respect to an otherwise rural, sparsely populated country side accounts for the aggregation of cultural and political differentiation from the confused-sinking-rust bucket of Cleveland.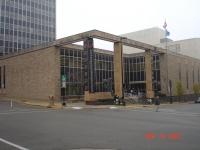 Madison, WI
(8 Photos)
For the last forty-some days I've been traveling the country by automobile. Madison was the first and one of my favorite stops along the way.
Being the Capital of Wisconsin and site of the largest state university, Madison is characterized by an interesting cultural and political mixture tending towards progressive & ecological consciousness, professionalized government and heavy involvment of grass roots action in political and social affairs. Madison's small scale certainly plays a significant factor in it's unique character.
Madison is similar in scale to Missoula, Montana and Eugene, Oregon, both of which are generally considered similar politically and culturally.
Beyond any immediate demographic and political similarities between these places, Madison stands out as distinctly mid-western in temperment, less corporate and generally less occupied by the forces of gentrification that these other two cities.
Madison is an 8 hour drive from Lakewood, 485 miles.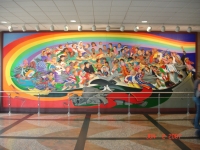 Colorado
(13 Photos)
Denver Air Murals a the Rockies
Back to LO Photoblogs