Headed up by legendary Lakewood rocker Denis DeVito Cats On Holiday are making
a long overdue return to their hometown, and kicking off the summer band concerts.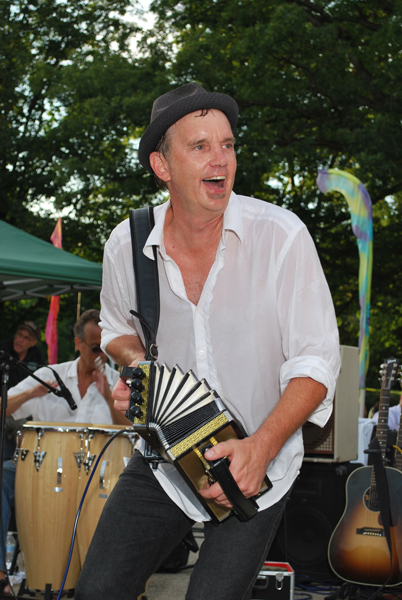 Lakewoodite, Denis DeVito working, with Cats on Holiday!

From Denis -
For all the outdoor festivals that the band performs at, in every part of the Northcoast, we have not rocked Lakewood on an outdoor stage in many, many years. Well that drought is going to end this Sunday 6/24. The Cat's full ensemble will be at Lakewood Park Bandstand from 7-9 as part of their Sunday Night Concerts Series. The Park is located at Lake and Belle Avenues (which is about W. 150th for you eastsiders counting the streets, Ha Ha!) I would expect a huge crowd, so bring a blanket or lawn chair and rock with us! Word is that an ex Cat who presently lives in NYC is going to do some jamming with us. Love to see you there to show the Lakewoodites what they have been missing!
Take a second, give them a listen.
For more information and the latest band news checkout
http://www.catsonholiday.com
or like us on Facebook
The City of Lakewood's Summer Band Concert Series. A long time Lakewood tradition,
these free concerts are held on Sundays at 7:00 PM at the bandstand in Lakewood Park,
14532 Lake Avenue.
June 24 ~ Cats On Holiday
July 1 ~ 122nd Army Band
Wed., July 4 ~ The Lakewood Project
July 8 ~ No concert! But join us on July 7 and 8 as The Cleveland Shakespeare Festival performs Henry VIII and As You Like It. These free performances begins at 7:00 PM.
July 15 ~ Hillcrest Concert Band
July 22 ~ Ernie Krivda & The Fat Tuesday Big Band
July 29 ~ Ki Allen, Lady Jazz
August 5 ~ Men of Independence
August 12 ~ Lakewood Hometown Band
In the event of rain, the Lakewood Hometown Band concert on August 12 will be held in the Lakewood City Hall Auditorium, 12650 Detroit Avenue.
.
_________________
Jim O'Bryan
Lakewood Resident
"The very act of observing disturbs the system."
Werner Heisenberg
"If anything I've said seems useful to you, I'm glad.
If not, don't worry. Just forget about it."
His Holiness The Dalai Lama