SCOTT GILMAN APPOINTED LAKEWOOD FIRE CHIEF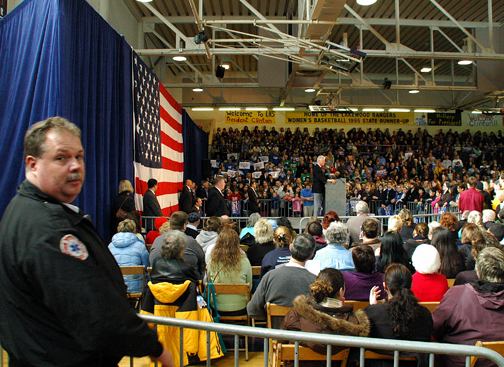 Scott Gilman in 2008 at work during the Hilary Clinton Rally at Lakewood High
School. That is President Bill Clinton speaking.
Mayor Michael P. Summers today announced that Scott Gilman has been appointed Fire Chief of the City of Lakewood. Gilman is replacing Larry Mroz who recently retired after 37 years of service to the City.
"I am pleased to announce the appointment of Scott Gilman to the position of Fire Chief," stated Mayor Summers. "Scott's firefighting knowledge and background make him an excellent choice for this position. Chief Gilman has a remarkable level of interest and enthusiasm for learning all there is to know about fire prevention, fire fighting, and fire leadership. I have the utmost confidence in his ability to effectively lead the Lakewood Fire Department."
Chief Gilman has almost 28 years of firefighting experience and an extensive background with the Department. He began his career with the Lakewood Fire Department in 1982 as a Firefighter Grade III. He was promoted to Firefighter Grade II in 1983 and Firefighter Grade I in 1984. In 1987, he was promoted to Fire Inspector. As Fire Inspector, Gilman was responsible for inspecting buildings for fire hazards, building plans for compliance with fire prevention ordinances and codes and educating the public about Fire Prevention. In 1991, Chief Gilman was promoted to Fire Marshal. As Fire Marshal, he was responsible for supervising the Fire Prevention Bureau.
Fire Chief Gilman will lead the Division of Fire's 88 members which includes 39 Firefighters, 13 Paramedics, 24 Firefighter/Paramedics and 12 Firefighter/EMTs. He will be responsible for the day-to-day operations of the Fire Department, preparation of the Fire Department budget and making recommendations for new firefighting supplies and equipment to make the department more effective and efficient.
# # #
.