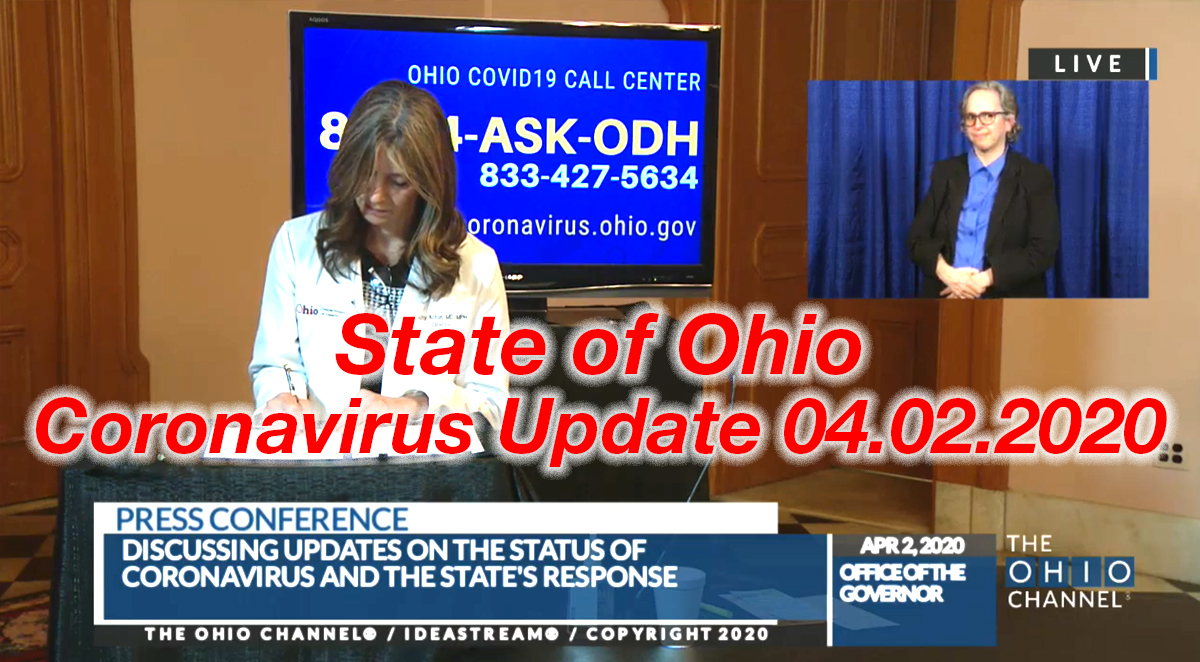 "I sign this order thinking about you and all of the sacrifices you are making." Dr. Amy Acton
New Dr. Acton Order that starts Monday night orderss STAY AT HOME until May 1, 2020.
COVID-19 In Ohio By The Numbers*
2,902 cases
802 Hospital
260 ICO
81 Deaths
75 counties have at least 1 positive
*It would seem that they are no longer making number of tests given.
The need for Personal Protection Equipment -
Over 600 businesses have responded, and we are looking for more. This is a way we can reach out and see if you can help us manufacture any of these items.
A new economic advisory task force.
We are not going back to normal. It could be anytime between April 15 and May 15 before we even see a peak. After that it is still a long fight to control the virus and shut it down.
New Dr. Acton Order, that starts Monday night orders STAY AT HOME until May 1, 2020.
The order differs from the last one with these additional changes and additions:
Dispute resolution panel, for businesses that feel they are being treated differently in the terms of essential businesses.
Over-crowding in store, is addressed in this new order. Each businesses needs to se a maximum safe number of people allowed in that business and post that number. For now businesses will be allowed to set their own numbers of what is safe.
Anyone traveling to Ohio and coming into our state is being asked to quarantine themselves for 14 days.
We are not going to regulate weddings or funerals. We will not regulate weddings but receptions MUST not allow more than 10 people.
Day Camps, Pools will be closed.
Garden Centers are not closed.
Sports will be prohibited.
People can fish, but they will have to stay at least 10' apart.
State Parks are still open, but if there is crowding or overuse and people coming in contact with one another we may shut them down. Be safe.
Lt. Governor John Husted:
coronavirus.ohio.gov/jobsearch Over 30,000 jobs online right now.
Dr. Amy Acton:
"I appreciate everything you are doing."
We are looking for all licensed professionals to fill out the survey you are getting and consider pitching in and helping out.
Together@ohio.gov
to offer how you can help.
Students we are looking for your help too.
NEW DASHBOARD online.
https://coronavirus.ohio.gov/wps/portal/gov/covid-19/home/dashboard
If we are anticipating a peak Mid-May, it will not be one day. It will be day after day. It will take a long time, well into June. "Certainly all of summer will not be lost to us."