Last night was another long evening of election-returns drama for Lakewood.
Board of Elections reports

Michael J. Skindell

winning the Democratic nomination for our state representative
, with 5,370 to his opponent's 4,272. Mike's message this morning was "I thank Democratic voters for their support on Tuesday and I thank all the volunteers and donors who made our win a reality."
Having been very involved in the campaign I will just say that there was no coasting; Mike and some incredible people worked very hard to earn this nomination. I am proud of having been part of that, and of being part of a campaign that stayed positive.
The Democratic primary for our state senate district
was possibly a story for the ages. It can probably best be summarized by saying that Lakewood basically reported last; if you look at this chart you may guess why it was a long and anxious evening that was transformed suddenly by the results from 44107: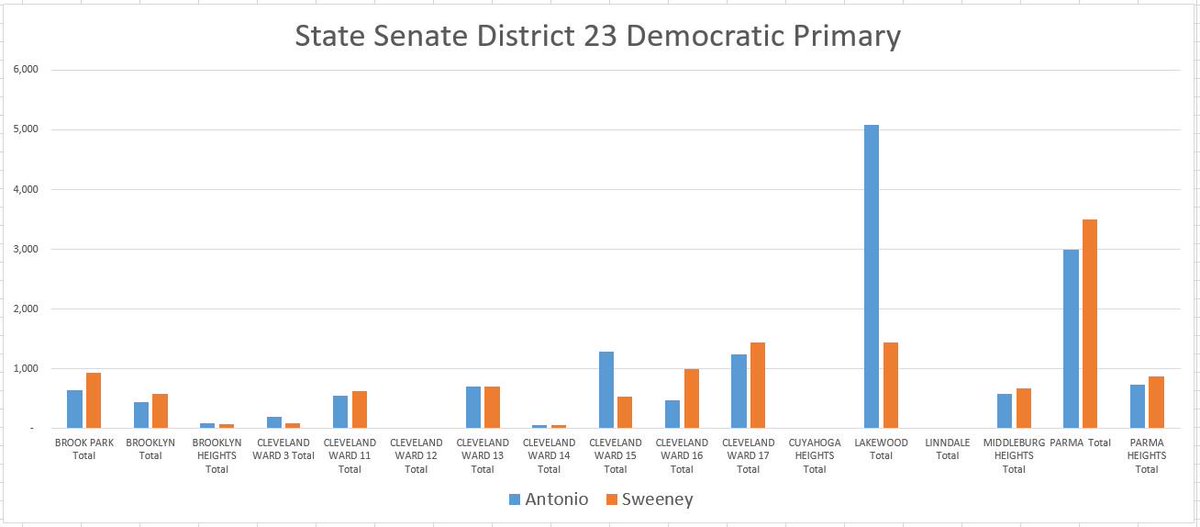 Lakewood voters decided this contest, in favor of Nickie Antonio. As above, it's an honor to have been part of this campaign and to have met this kind of response.
It turns out that both Antonio & Skindell will be opposed on the November ballot, so I hope supporters will follow through in the general election.
Meanwhile there were some
interesting results for County Democratic Party Central Committee
, one or two of them
noted already
. I believe we can peek at the future of Lakewood in some of the first-time candidates who ran for these offices, both successfully and not.
I'm going to hold off a bit on any more specific interpretation, but I will agree with a friend who commented after the results that something is brewing.
P.S.
The results for Issue 1
were not dramatic in the sense of being suspenseful, but they were dramatic in the sense of being remarkable. More than
82%
for Yes! Ohio is going to terminate gerrymandering—with extreme prejudice.