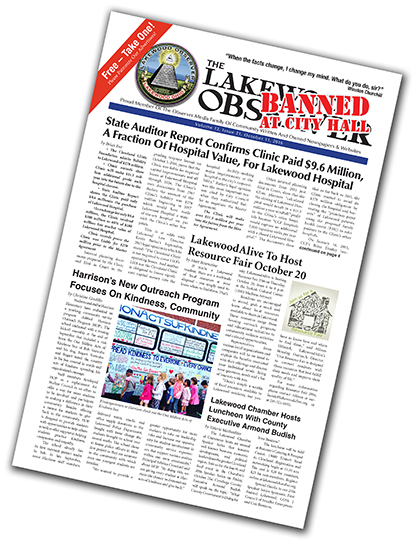 Download here:
http://media.lakewoodobserver.com/issue_pdfs/Observer_Vol_12_Issue_21.pdf
Papers will still be available throughout the city, and we move the 300 papers from City Hall to put into home delivery.
Why dd City Hall ban John Litten talking about a beloved pediatrician who recently passed away? Fifth Graders writing about their experience with their dads at Emerson's Father Walk? You?
After 12 years and 309 issues, the Lakewood Observer has been banned from City Hall?
It came as a complete shock to me, I had just read a story from Councilman John Litten, and thought, "Why are they afraid of his words?" Then I saw stories from many non-profits, the Library, and the Schools and thought, "Why would City Hall cut this out?"
The Lakewood Observer has been awarded four Resolutions for the good and honest publication we have given the community. The Lakewood Observer has received three commendations from the Ohio State School Board for honesty in reporting, one from Senator Sherrod Brown. Lakewood's Chamber Business of the year, LEAF's best supporter.
Together with our volunteers we have generated hundreds of thousands of dollars in media, and donations to the Friends of Lakewood Library, the Schools' two bond issues, three levies. We worked with Ed FitzGerald on getting rid of backyard trash collection and he wrote a glowing review to investors about how much the Lakewood Observer, and the paper meant to the community and City Hall.
But nearly from Day One, the Summers Administration has seen the Lakewood Observer as a danger to his plans, and the plans of his friends. The plans to liquidate Lakewood Hospital valued at $180 million dollars into almost NOTHNG for Lakewood and millions for friends and a still yet to be named non-profit run by Whom?
One of the very first things done in this administration was to change the time Lakewood City Hall keeps documents from 3 years to 2 years. Cost was seen as the reason. A 5 TB hard drive costs $129! One of the next things was trying to get rid of that pesky 3-reading rule, so that things could be fast-tracked with "Emergency Votes." Another way to keep citizen response, questions and participation down. Then they moved into fighting nearly every public records request, first with a canned answer, "Too broad and sweeping" to "Those documents are privileged," even though they have been shared with others. But what comes next is the most ignorant move yet.
An effort to marginalize and shut down the Observer Project, so City Hall decided to stop sending in their information. Many do not realize this but the Observer has given City Hall three pages to get their information out, unobstructed. But that was not good enough, they hated that we published opposing views. Opposing views to theirs, to mine, to anyone's. It's a community-written paper, that's the nature of the beast. Then starting last week came talk that the paper version of the Lakewood Observer should be marginalized. They like to say "the paper version," as they have already attempted to marginalize the uncensored online discussion board called "The Observation Deck." After all nothing good comes from people talking about their differences in the open?!
And now, the Lakewood Observer print paper featuring stories from City Hall, kids, politicians and residents, BANNED in yet another effort to hide the facts, the discussion and just how bad they have gotten.
I have been working on a story about the current rise of fascism in this country and this city. Here are some quotes…
"We'll know our disinformation program is complete when everything the American public believes is false."
William Casey, CIA Director
"[This is the] very first condition which has to be fulfilled in every kind of propaganda: a systematically one-sided attitude towards every problem that has to be dealt with…"
Adolf Hitler, Mein Kampf , p. 182
One of the major aspects of the Lakewood Observer project is that it's a great community assessment tool. You get a great overview of what is happening, why, and who some of the players are. This bothers many, as they prefer to work the shadows and the dark hallways of City Hall. But together we not only get a better understanding of what is going on, but why and by whom.
This latest ploy by Mayor Summers underlines just how bad his deal with the Clinic is, and how desperately he needs to cover it up.
Twelve years ago Lakewood celebrated open discussion, democracy, civic discourse and better understanding.
This administration has worked to destroy that, to bring the community to the edge of Civil War, and worked and spent over a million dollars to control, confuse, and misinform you. That is City Hall spending your tax dollars on lies and cover-ups. That is your money being used to misinform you, about the biggest deal in Lakewood's past 50 years. The liquidation of our largest employer, our downtown anchor. Turning nearly $300 million in assets into $16 million for friends.
We will continue to amplify the voices of all Lakewoodites, so that we can work together with understanding to make Lakewood better.
As always thank you to our editors, writers, photographers, readers, and most of all our advertisers.
peace/love
.