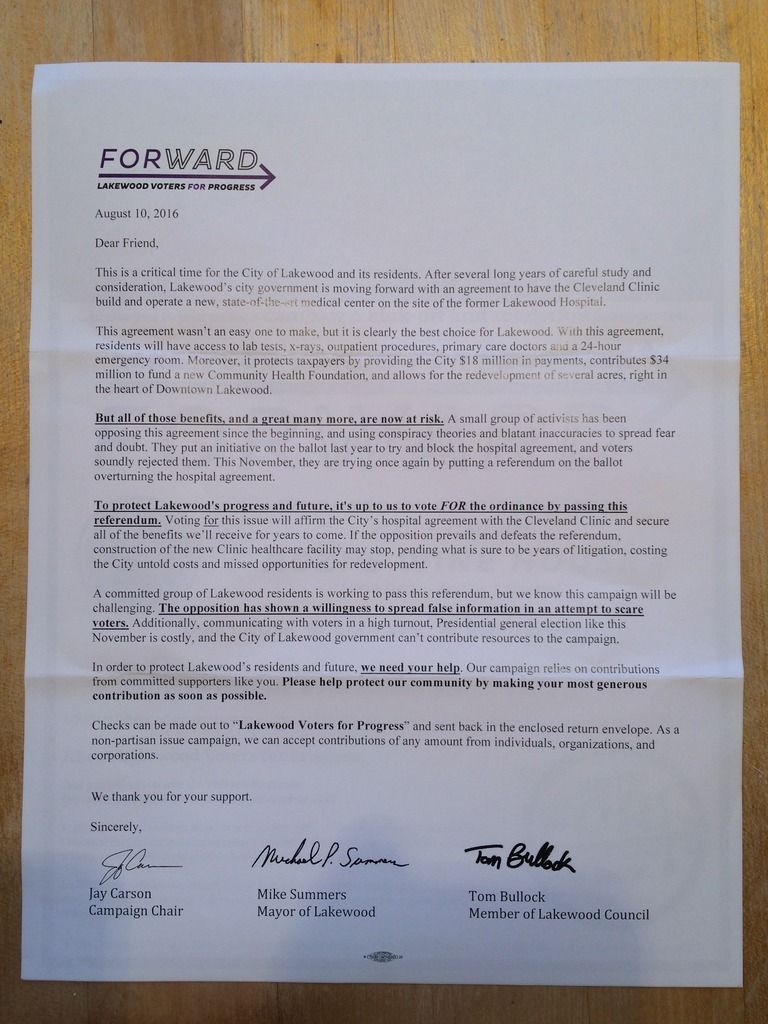 It gives me no pleasure to revisit this thread, but I received this letter from Lakewood Voters for Progress today.
Lakewood Voters for Progress wrote:A small group of activists has been opposing this agreement since the beginning, and using conspiracy theories and blatant inaccuracies to spread fear and doubt. They put an initiative on the ballot last year to try and block the hospital agreement, and voters soundly rejected them.
I have no knowledge if it is a large or "small group", but those "activists" are fellow Lakewood citizens and neighbors. You may disagree with them, but they should not be enemies.
The initiative was a proposed charter amendment that would require a citizen vote for approval of a hospital agreement, if and when Council approved one. It is my understanding that when signatures were gathered for the ballot petitions, and all the way through election day last year, there was no hospital agreement to block, based upon what the city said publicly.
I'm not arguing whether a vote allowed by this amendment would have blocked a hospital agreement or not. I'm not arguing the benefits of blocking an agreement or not. As a matter of fact, I'm not going to argue the value of the hospital or of Lakewood's final agreement with Cleveland Clinic. I'm unaffiliated with any pro or anti group, but I have my concerns.
For the past 17 years, I have had more citizen involvement with the Charter of the City of Lakewood than any other person. Dr. Larry Keller may be the only possible exception. He and I could debate that. Regardless, in my view, it's all about the process for effective and ethical government.
As I mentioned earlier in this thread, there are many reasons to vote for or against a charter amendment, and this one in particular. The reasons for voting one way or another may not have anything to do with the hospital. For example, a vote on this type of charter amendment may have to do with an individual's philosophy about representative government versus direct democracy. (Personally, I generally favor representative government, but I understand citizen initiatives and remedies.) Voter motives are not always measurable. I don't think either side should claim a mandate in this case.
Lakewood Voters for Progress wrote:A committed group of Lakewood residents is working to pass this referendum, but we know this campaign will be challenging.

The opposition has shown a willingness to spread false information in an attempt to scare voters.
You don't want to scare voters. Better to inform them.
Lakewood Voters for Progress wrote:

But all of those benefits, and a great many more, are now at risk.
Hmmm. Sounds scary. A great many more benefits now at risk? Really?
I would counsel that Lakewood Voters for Progress be detailed and accurate in their presentation of their opposition's "inaccuracies to spread fear and doubt," if any, and stop spreading "false information" based on the supposed rights and privileges gained by a self-defined mandate.
.