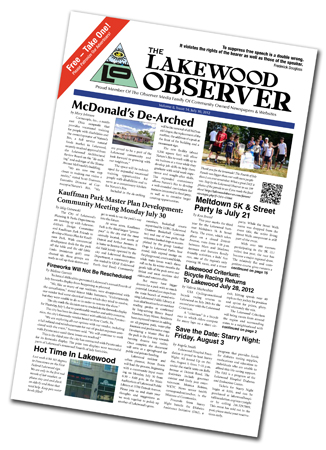 http://media.lakewoodobserver.com/issue_pdfs/Observer_Vol_08_Issue_14.pdf
This issue marks our 8th year of producing the printed version of the Lakewood Observer
for the City of Lakewood. Since we started this project nearly ten years ago, we have
stayed true to our mission and our purpose. Helping non-profits, schools, businesses and
residents getting their voices heard and message out at no cost, while understanding what
is going on, and how it applies to their life and their future.
Thank you all that have helped, and all that have taken part.
I love you all, as I love this city.
To suppress free speech is a double wrong.
It violates the rights of the hearer as well as those of the speaker.
Frederick Douglass
James C. O'Bryan
Publisher
Lakewood Observer, Inc.
http://lakewoodobserver.com
powered by AGS' Ninth Estate Software
Proud Member of The Observer Family Of Community Owned Media
_________________
Jim O'Bryan
Lakewood Resident
"The very act of observing disturbs the system."
Werner Heisenberg
"If anything I've said seems useful to you, I'm glad.
If not, don't worry. Just forget about it."
His Holiness The Dalai Lama