Click below:
http://media.lakewoodobserver.com/issue_pdfs/Observer_Vol_08_Issue_08.pdf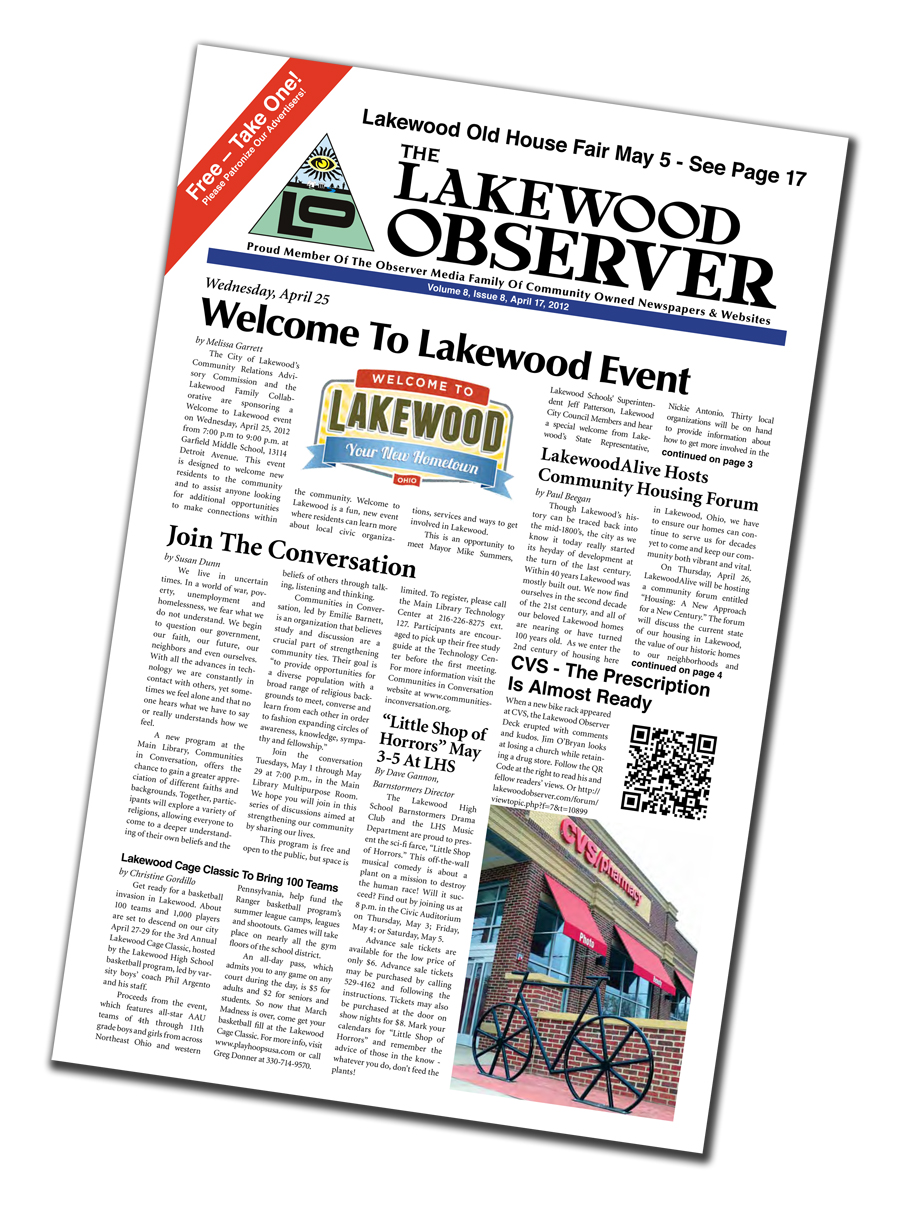 All
We have enjoyed a beautiful spring thus far, it has been more springy then most I remember in the recent past, the wonderful flowering trees of Lakewood have stayed in bloom for weeks now, not a bad thing if I do say so myself. Which kicks off many great Lakewood spring events not to be missed, like Keep Lakewood Beautiful, these fine volunteers have taken it upon themselves to keep our small parks clean and beautiful. Some even do the work on larger parks, like the beautiful entrance to Lakewood Park is maintained by Dan Morgan on the board of this great group. If you are looking to volunteer, and you have a green thumb, or care about Lakewood, this would be a great group to join in.
Perhaps we could instill their sense of dedication and love for the parks into our city council, and service departments. It is still one of the greatest disappointments that Lakewood is continuing on with the early closing of the parks. As of this moment no real reason has been given. Graffiti and loitering are hardly reasons to close parks. I have had a chance to talk to most members of council about this. Well the ones that I feel are stable. I have yet to hear a reason that holds up to discussion. I have heard how they made their decision, and at the end of the day we elect them for their decision-making skills, I suppose. But even in short 5 minutes discussions they see that maybe they were a bit hasty. Maybe they should have looked a little deeper into what the team of Juris, Nolan, and Anderson came up with. That maybe Councilman Anderson was right, in putting the snap decision off for a couple weeks or months to study the impact, which is what he had lobbied for.
I posted a story on the Deck, you know, the evil Deck where everyone has an equal voice, and a chance to tell their side of the story, and anyone can answer them. In the story I recount the story of losing St. Paul's Lutheran Church to "ANOTHER CVS SUPERSTORE!" and how, working with a good PROVEN civic partner like CVS, with local developers and a Lakewoodite at the helm, has given Lakewood a finished project that turned out better than anyone could have thought.
------
Which brings me to the point of this letter. The discussion between Sean McDermott, and I last Saturday as in the story.
Over coffee, just yesterday I was speaking with Sean and he said, "Jim, I do not to see the workings of as many cities as you do as you travel around, but you have to admit Lakewood is pretty nice." I smiled and took a sip of my coffee and said, "It truly is the best place to live and raise a family in the county, but I am afraid many see our glass as almost empty when in fact the glass is 85% filled." He agreed.
UPDATED by Sean McDermott
And to build on the closing statement, I do travel extensively for work, and meet and tour many areas, neighborhoods, etc. Bottom line is we don't know how good we have it here and what a wonderful and special place Lakewood really is. I know you agree. We've got it better than any peer city in our shoes.
------
When we have no idea of who we are and where we are headed, we have an equal chance of destroying what got us here, and it could be as small as closing parks early for no reason on the honest residents of Lakewood.
Get outside, in the garden, in the Emerald Canyon live life, have fun, get off the computer! Walk the streets, play in the parks, now with limited hours to keep us safe and the parks clean, live in the city we all love and want the best for.
Damn I love this city,
.
_________________
Jim O'Bryan
Lakewood Resident
"The very act of observing disturbs the system."
Werner Heisenberg
"If anything I've said seems useful to you, I'm glad.
If not, don't worry. Just forget about it."
His Holiness The Dalai Lama