I remember back to the day I heard the news that St. Paul's Lutheran church was closing.
It pained me, I have been studying the effects churches and their closings have on
communities, and I have known many friends and neighbors who attended church and/or
school there. I know many people who grew up on the street and played in the yard by
the massive trees, and even remember hiding behind the stone walls that were at the
Detroit Avenue end. All were crushed by the closing of the church. When they heard it was
"another CVS!" people including myself went nuts.
My personal favorite line was, "The last thing we need is a CVS Super Store selling beer,
and liquor 24 hours a day." Which of course ended up not to be the case.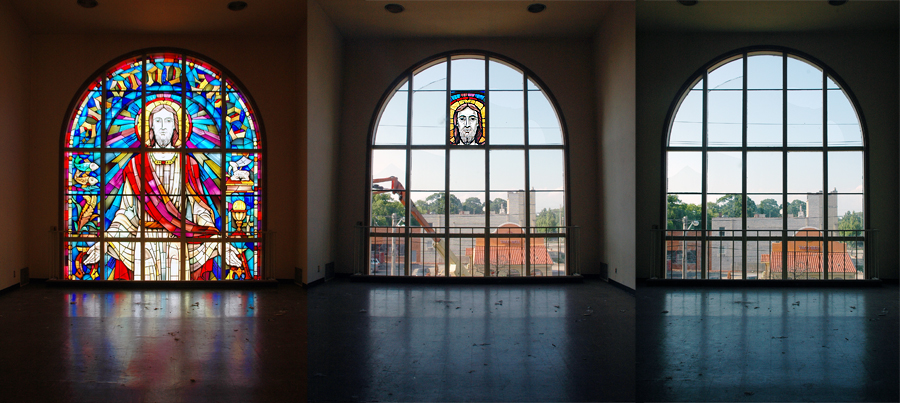 The stained glass coming down.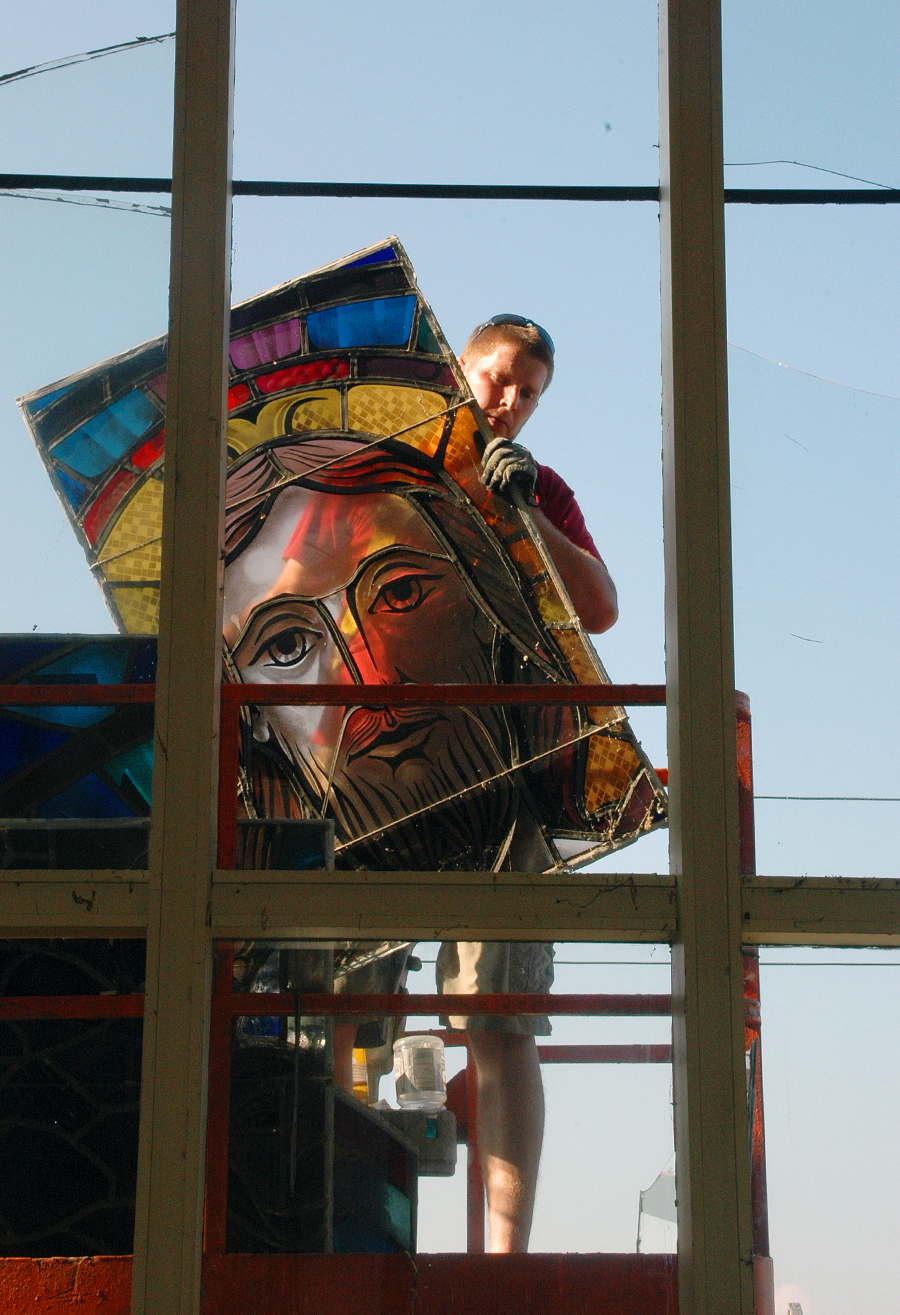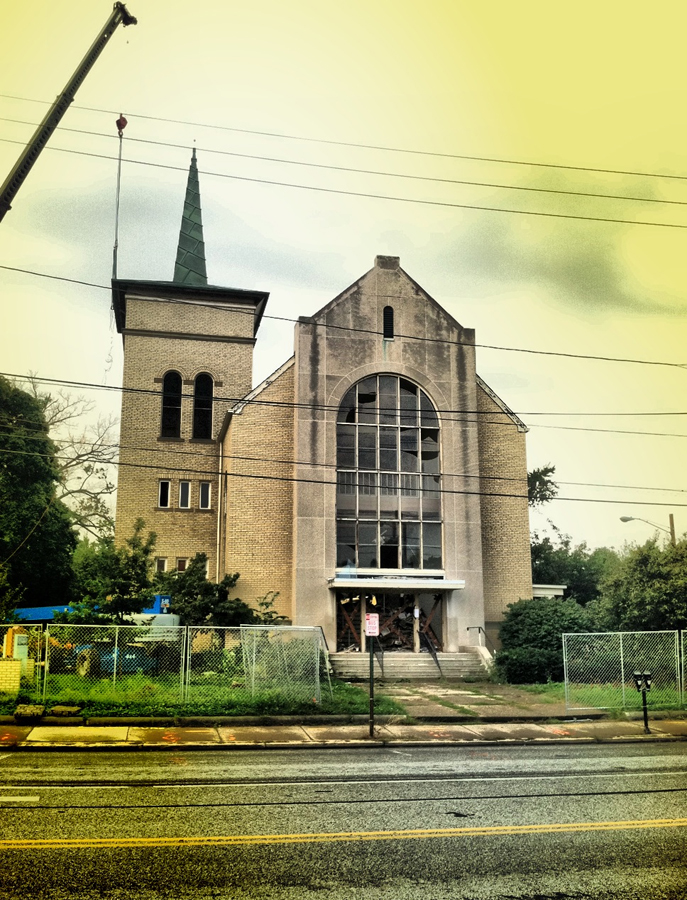 The steeple ready to come down.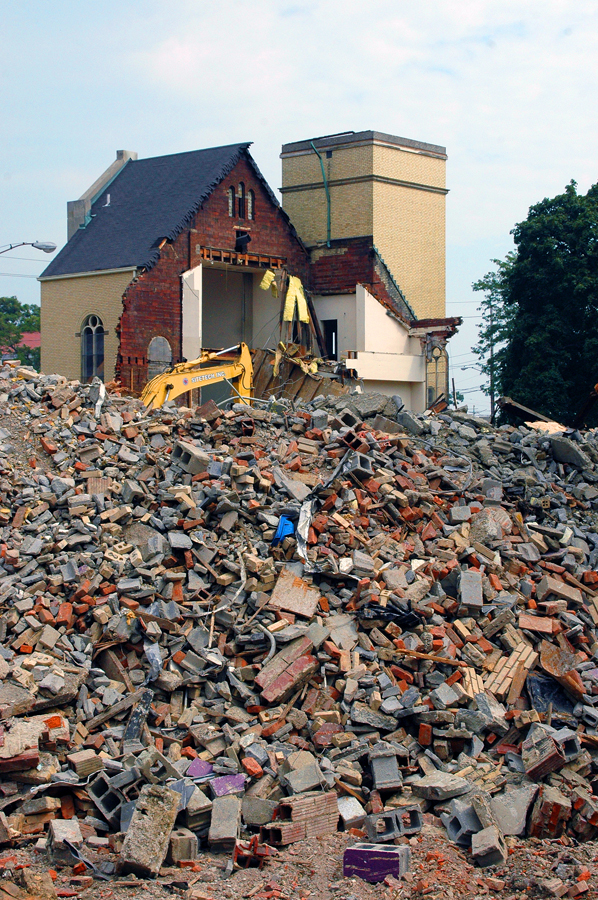 Thousands of memories now in rubble.
While they were dismantling the church I had the pleasure of talking with many of the
parishioners from the past, and/or students some had been baptized there, married there, had
their children baptized there, or buried a spouse from there. I also got to meet the "head
of the project." Oddly enough, I already knew him, after a chance meeting, while I was
taking pictures of weeds on Detroit Avenue one Sunday morning and he walked up and
said, "Oh I guess I will see that on the Observer, later." I admitted that is where it was
headed, but he was headed to the Root Cafe with his daughter, and asked if I would prefer
to join him. So I did. I had just met Sean McDermott, I have never regretted the time, or
any of the conversations that have followed out of that first coffee.
Besides being very active in Lakewood with his family, Sean also works for The Zaremba
Group, and is the project manager for the CVS Project. What is even more fascinating to
me, is that Sean has been a big proponent for LakewoodAlive, Economic Development,
way-finding, and many of the things I question when I think of where the city is headed in
the future. And Sean could easily hit a baseball to CVS from where he lives; it is
"Development In His Backyard" so to speak.
I had many chances to talk with Sean, after I broke into the "deserted property" that was
actually owned by Zaremba at the time, and Shawn came to throw me out. We have often
spoke of the CVS project and others, and it has been gratifying to hear what he has to say
about, and how much he has gotten everyone in the project to put Lakewood first. All
important pieces of the church went to another church in town that this church had
merged with. The trees went to Dean Heidleloff's (a Lakewoodite's lumberyard) to be
turned into furniture that will find its way back to Lakewood.
But more to the point, if we are getting another drugstore, which is actually a misnomer,
as it really moved two blocks west, we want it to be Lakewood-friendly, and add to the
neighborhood as best it can. CVS have proven themselves to this city to be more than
willing to spend money to make their properties more attractive in the neighborhood. As
they did with the CVS "Welcome to Lakewood" wall on Clifton and Highland Ave. And they
have proved it again with this. I have to admit, this might be the best solution for a tough
question I have seen. Responsible big box project, with local companies, and Lakewood
project managers.
So let's take a look at the latest Zaremba Group Project in Lakewood before we are even invited!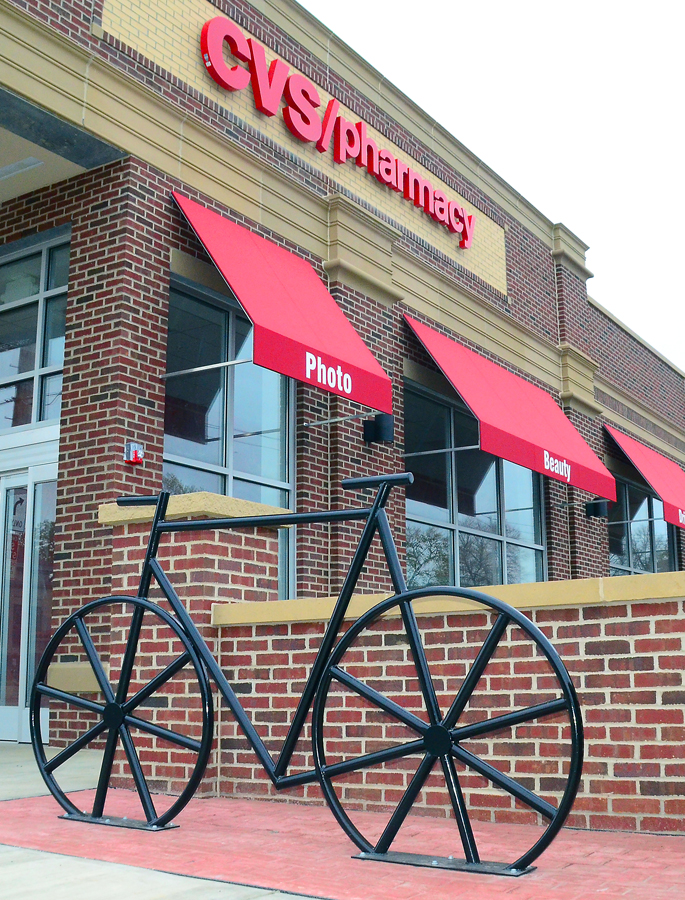 Everyone is talking about it, created by Rust Belt Welding,
http://rustbeltwelding.com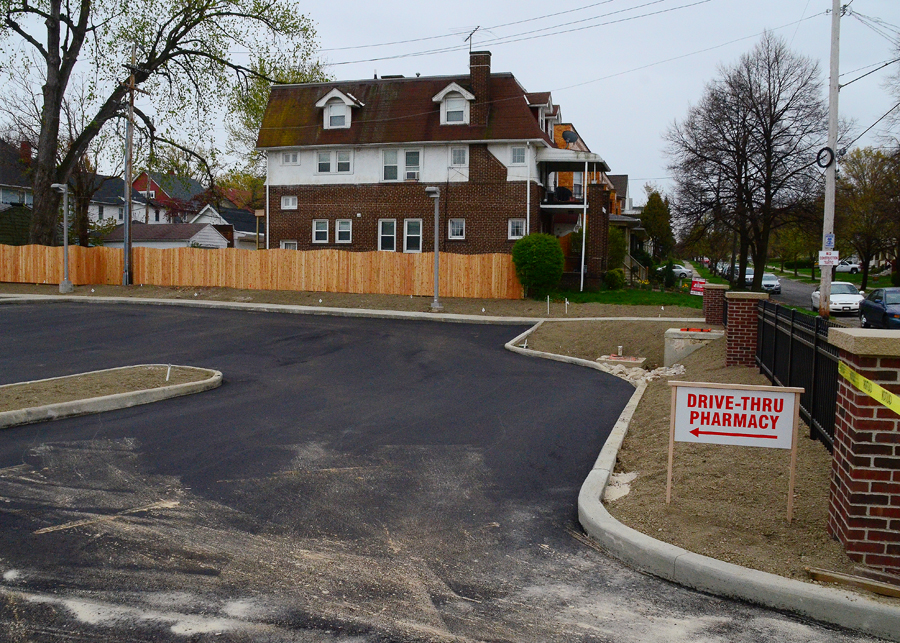 Entering the massive parking lot from Lakeland, you can see one of the bioswales used
to collect rainwater and hold it, and help scrub it before it goes into the sewer system.
While I was impressed that CVS did this, Sean assured me they are now in the
regulations, but CVS has created more of them than asked for.
You can also see the fence and special lightening to try and reduce the light pollution to
surrounding homes and property. While it cannot be 100 percent effective, by spending a
little more on lighting systems it can be reduced to "acceptable" levels. You can also see
the walkway across the back.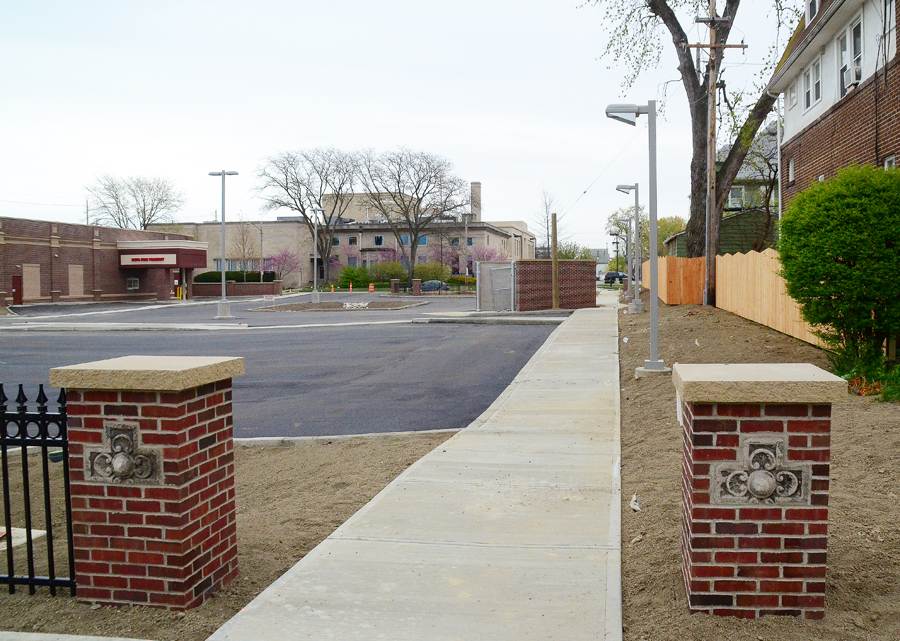 A walkway across the back of the lot. One thing Zaremba Group had noticed was a large
group of residents used the church as a way to get to the Lakewood Public Library. They
also knew the parking lot would be used as well, so they created a nice walk way away
from traffic, that is well lit, and nicely landscaped for those cutting through. Make no
mistake this is an extra cost and nice feature, the walk does not lead to any of the doors!
You can also see how the lights have been shaded to not light anything past the walk.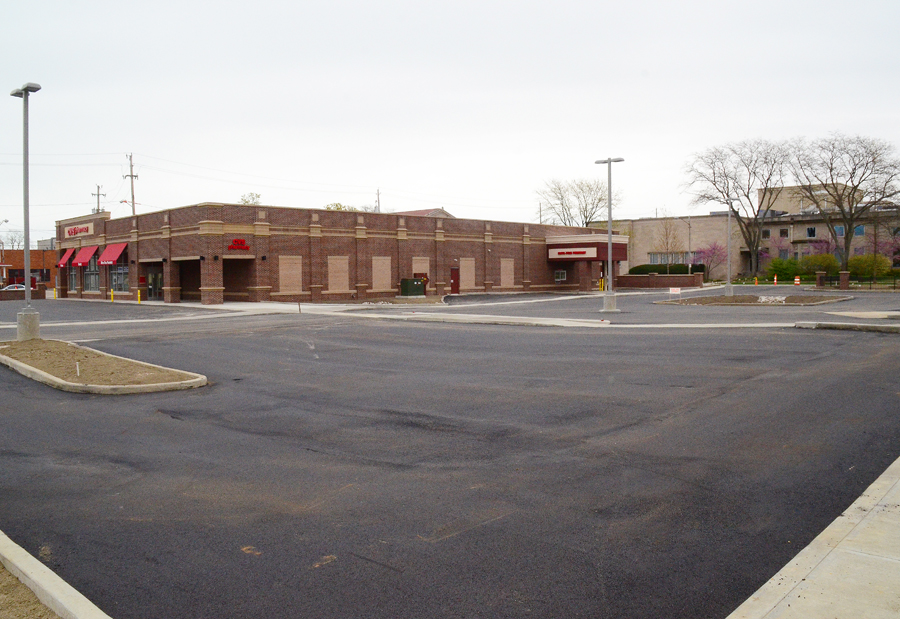 Damn is this lot big enough or what?! Actually they knew from experience that the lots
near downtown Lakewood get filled with cars that would stop and buy a stick of gum,
then go to the Arts Festival, and planned for that too!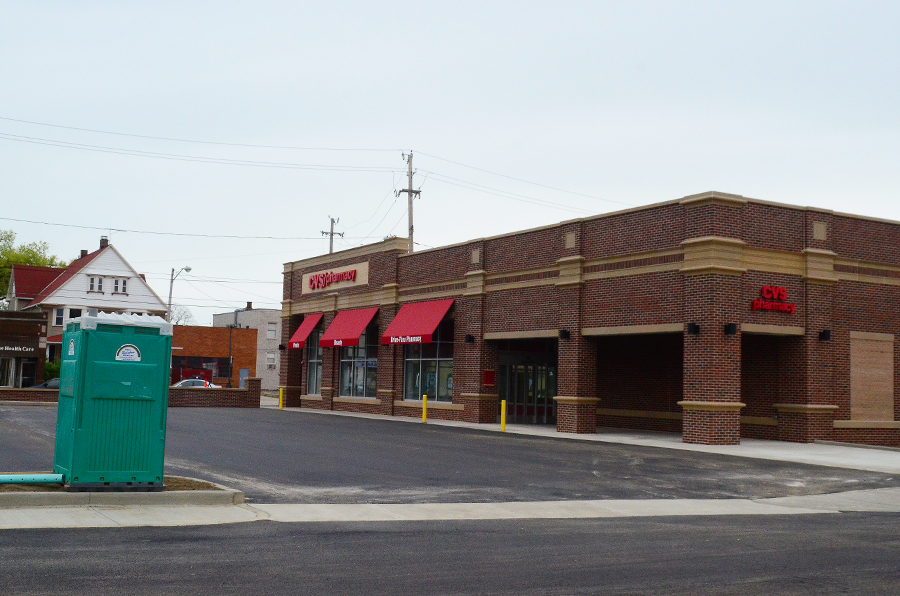 The entrance, and while I give them A+ for making things nice, the bathroom facilities
are rustic to say the least. Perhaps they will be updated before the opening.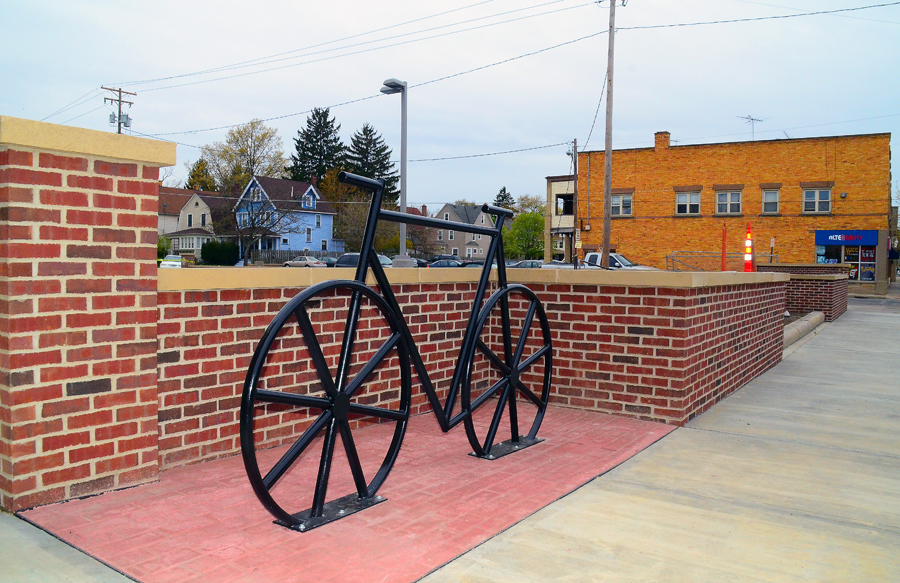 The bike rack is nice.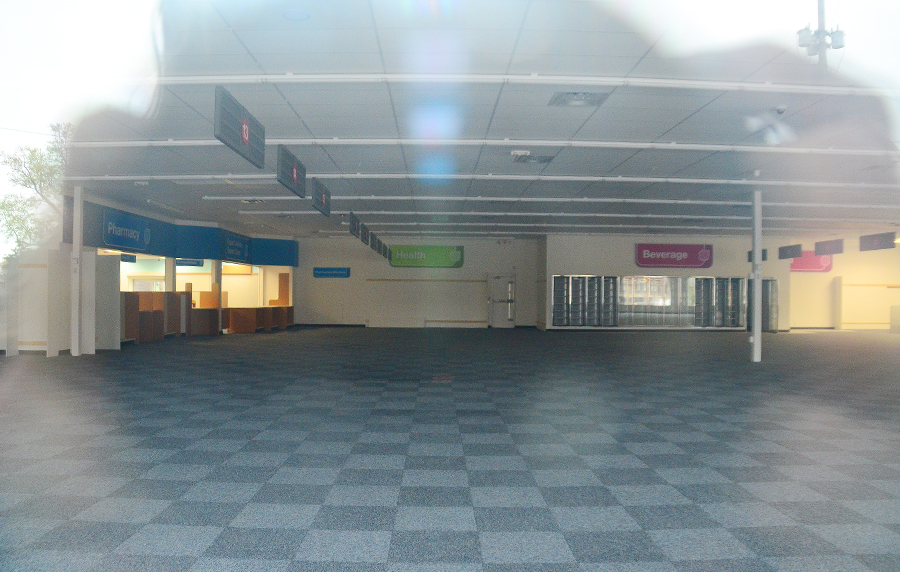 The inside is pretty functional, clean, bright, lots of lights.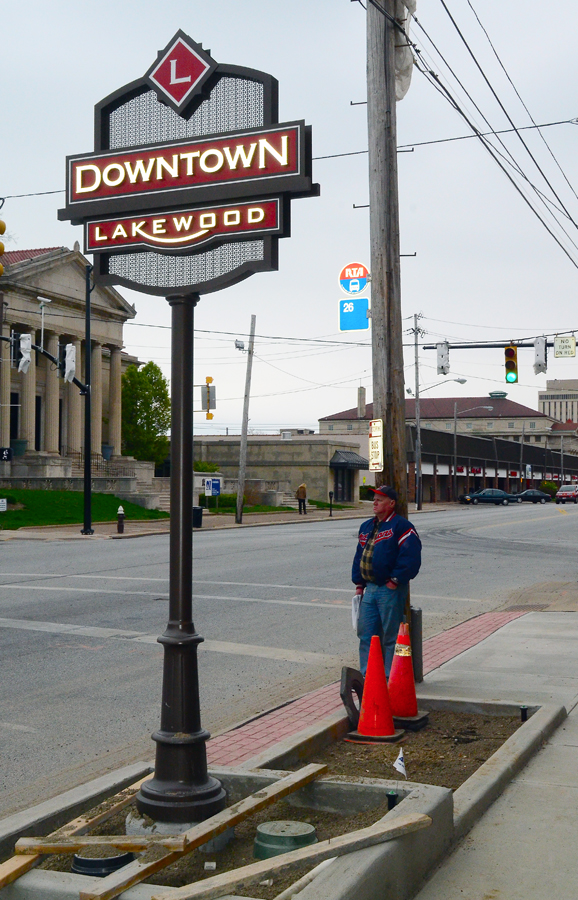 In my humble opinion, the entire project turned out so nice, I am even willing to stop
and appreciate the "Downtown" wayfinding sign CVS paid for.
While I am still not a fan of big box, or chains in Lakewood, I am sure they will find their
way into the Best Suburb in Cuyahoga County. But if they are coming, let's make sure they are as
good of partners in the city as CVS, and the Zaremba Group.
Over coffee, just yesterday I was speaking with Sean and he said, "Jim, I do not to see
the workings of as many cities as you do as you travel around, but you have to admit
Lakewood is pretty nice." I smiled and took a sip of my coffee and said, "It truly is the
best place to live and raise a family in the county, but I am afraid many see our glass as
almost empty when in fact the glass is 85% filled." He agreed.

UPDATED
by Sean McDermott
And to build on the closing statement, I do travel extensively for work, and meet and
tour many areas, neighborhoods, etc. Bottom line is we don't know how good we have it
here and what a wonderful and special place Lakewood really is. I know you agree.
We've got it better than any peer city in our shoes.
.