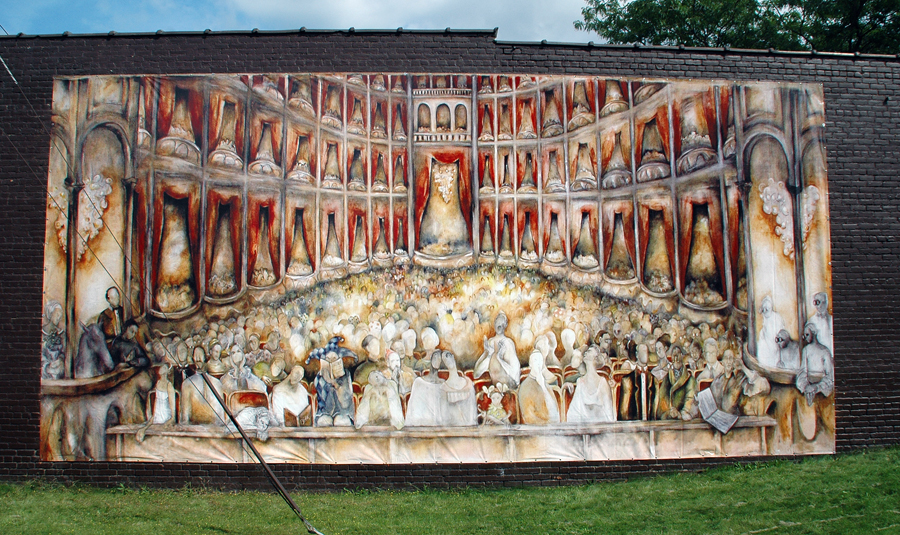 Natasha Turovsky, "A Night at the Opera
Outdoor Mural to be Installed at Beck Center on September 18
One of the Largest Outdoor Public Art Canvases in the State of Ohio

by Kathleen Caffrey
photos by Jim O'Bryan
Art dealer Paul Sykes, in collaboration with the Beck Center for the Arts, has arranged for a 33' x 18' canvas art mural by internationally acclaimed artist, Natasha Turovsky was installed on the west side of Beck Center's Annex Building in Lakewood on Sunday, September 18, 2011. The mural, entitled "A Night at the Opera", is a replica of an original work by Turovsky. The installation will begin at 9 a.m. and continue throughout the day. Media are invited to capture this intriguing addition to the Beck Center's landscape at 11 a.m.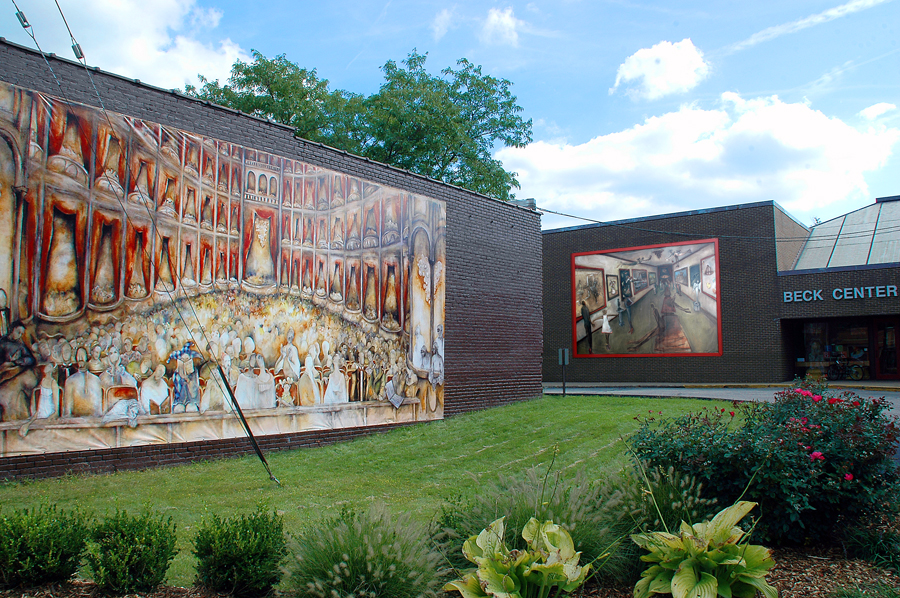 Natasha Turovsky's "Beck Stage" has been moved to the main building.
The new mural will replace Turovsky's "Beck Stage", which is moving to the east side façade of Beck Center's main building, making the combined murals, what Sykes believes to be, the largest outdoor public art canvases in the state. "This is a wonderful opportunity to showcase both murals along with Beck's new state-of-the-art marquee, providing even more visibility with high-level art form," said Sykes.
Sykes and Beck Center for the Arts will host a Meet the Artist reception on Thursday, October 13 from 6:00 to 9:00 p.m. where guests will get a preview of Turovsky's $2 million exhibit that will run through November 13. The collection will be on display in the Jean Bulicek Galleria, Beck Café, Skylight Walk, and Virginia Q. Foley Gallery at the Beck Center.
Born in Russia, Turovsky is a Montreal-based surrealist artist, professional musician and filmmaker whose work has been acclaimed throughout the United States and Canada. Since 1996, she has held tenure with Cleveland Exhibits and local Art Collectors. An award-winning movie based on her talents, "Pictures at an Exhibition" was recently accepted into the Cannes Film Festival; and Cirque du Soleil hosted an Art Exhibit with her works at their corporate Headquarters in 2006.
Beck Center for the Arts is located at 17801 Detroit Avenue in Lakewood. For exhibit hours and more information, call 216.521.2540 x10 or visit
http://www.beckcenter.org
.
Beck Center for the Arts is a not-for-profit 501(c)3 organization that offers professional theater productions, arts education programming in dance, music, theater, visual arts, early childhood, and creative arts therapies for special needs students, and gallery exhibits.