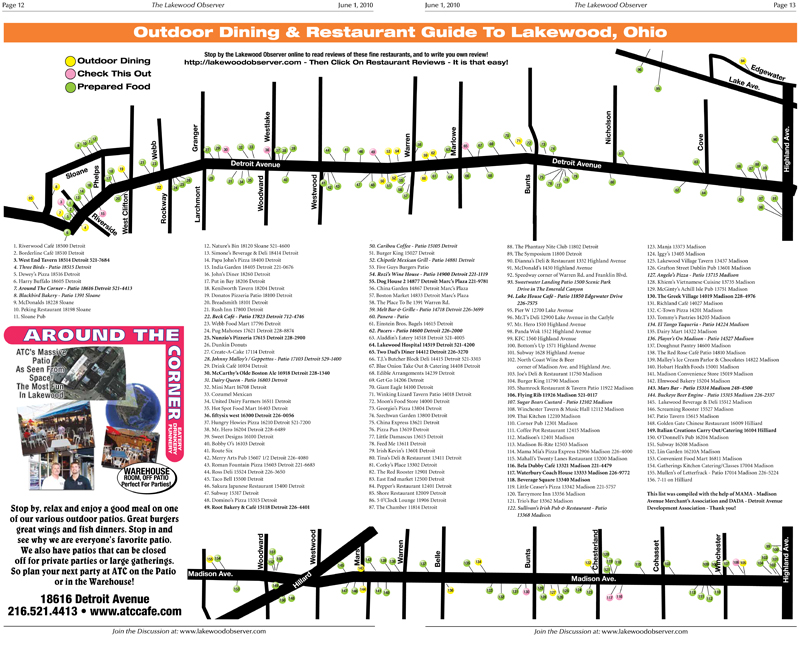 The response has been overwhelming to the 2010 Dining Guide. When LO sales rep
Maggie Fraley suggested this pull out section who knew there was 162 place to
buy prepared food in Lakewood!
With another 5 coming in!
But between emails, calls and on the street conversations about the Guide we have
uploaded a .pdf version for all to have and enjoy.
http://media.lakewoodobserver.com/media/docs_1275572326.pdf
I would also ask any and all to send in any updates or correction so we can keep this list
up to date.
And do not forget you can review these restaurants and let others know what you thought
at the LO Restaurant Review Section here:
http://lakewoodobserver.com/restaurant-review/
Next Up Our list Of Proven Contractors And People In The Trades!
I would like to thank MAMA and DADA for their help in compiling this list, and
future lists of businesses, contractors, and landlords!
All free, no need to leave any personal information!
.