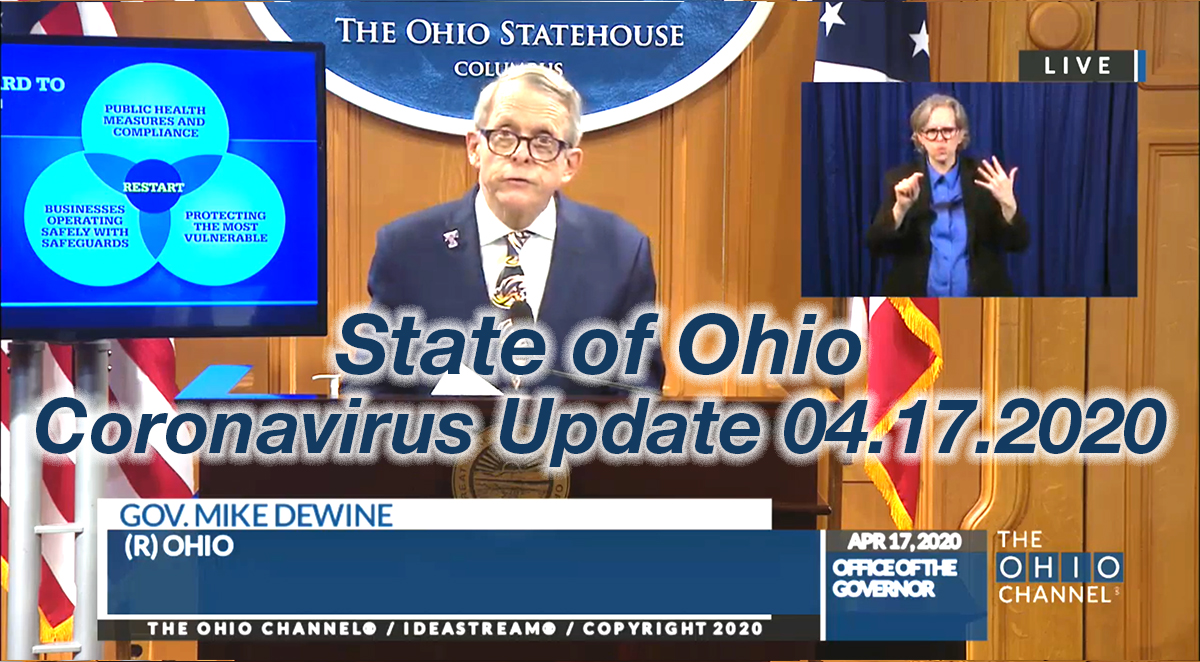 State Of Ohio
8,858 -
Confirmed Cases
249 -
CDC Expanded Case Definition (Probable)
9,107 -
Total Cases
2,424 -
Number of Hospitalizations in Ohio
740 -
Number of ICU Admissions
401 -
Confirmed Deaths
17 -
CDC Expanded Death Definition (Probable)
418 -
Total Deaths
United States
675,640 -
Confirmed Cases. ↑ 27,637 (4.26%)
34,522 -
Total Deaths ↑ 2,079 (6.40%)
1,868 -
Recovered
3,394,173 -
Tested
Gov. DeWine
We have to assume everyone out there is positive. Many times they will never know that till they have a test.
Showed a graphic on how they will protect us during the start up.
The restart up will be a lot like what is going on right now. We are going to leave it up to the businesses to handle their start up. If a business can offer protection for their employees, then their work should continue.
It is a delicate situation. It will be enforced by customers deciding not to shop there, and employees calling the State Board of Health. If a person is high risk they will have to decide for themselves if it is work the risk.
If you think we caved with pressure please watch how we do this.
The local restaurants will handle local Health Department.
This is not forever, then when we get a vaccine we can go back to normal.
Lt. Gov. Jon Husted
I have been speaking with business people, and in the coming days we will be releasing some of our plans. We need to get it organized into a workable plan.
Dr. Amy Acton
We still do not have enough data or testing.
.