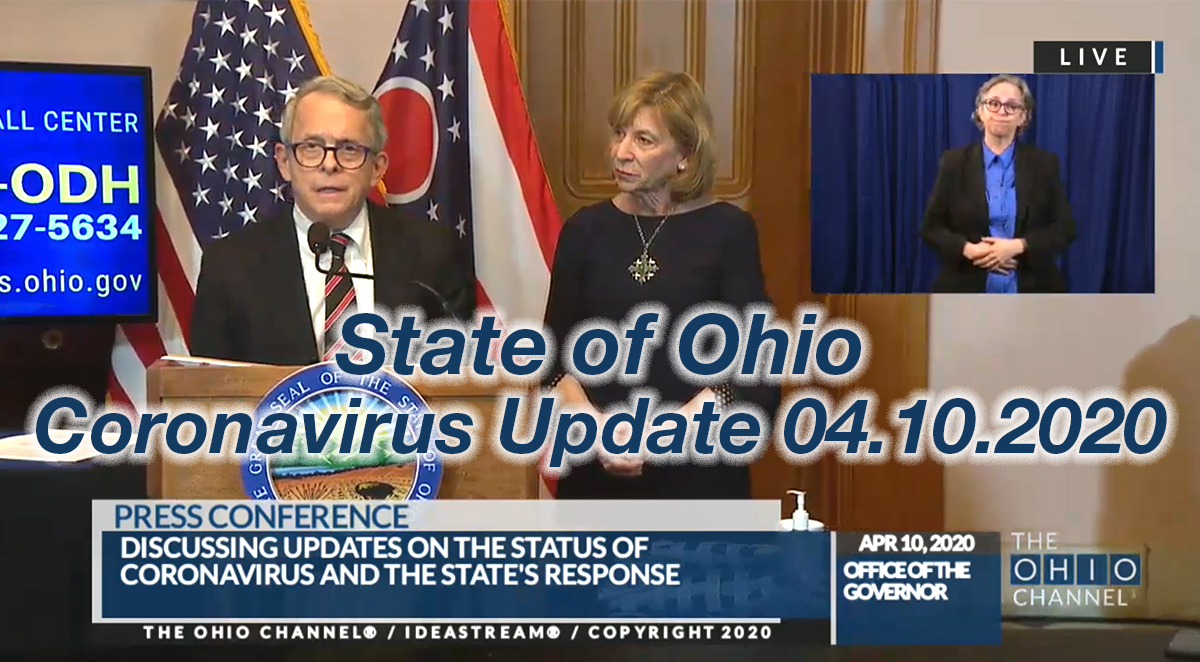 COVID - 19 By The NumbersUnited States
489,280 -
Confirmed Coses ↑ 20,741 (4.42%)
27,403 -
Recovered
18,016 -
Deceased ↑ 1,325 (7.93%)
58,753 People Tested
5,878 -
Total Confirmed Cases
5,836 -
Confirmed Cases
1,755 -
Number of Hospitalizations in Ohio
548 -
Number of ICU Admissions
42 -
CDC Expanded Case Definition (Probable)
231 -
Total Deaths
227 -
Confirmed Deaths
4 -
CDC Expanded Death Definition (Probable)
Change in the way the CDC want numbers reported.
With that noted the Governor and Dr. Acton decided more details were better than the new CDC Guidelines.
The numbers you will see today are under this new reporting systems
CSTC helped with the new guideline. They provide technical guidance to the CDC
Old system - Doctors were only allowed to confirm a case that was actually confirmed by a laboratory tests.
New recommendation - is will include cases that meet the following criteria. We will report both the new and old numbers so you can see the difference.
The new number represents
Quick test that test positive for COVID-19 Antibodies in their blood. These were not reported in the old numbers
A person will be counted if there is evidence if there is presence of COVID-19. OR they will also be counted if there is no test but no other likely explanation. Based on systems, and possible contact with a COVID-19
When it comes to death, if there was no test but the cause was symptoms similar to COVID-19, and had contact with someone, they could be ruled death by COVID-19.
Ohio Distillers are delivering on their first shipments of hand sanitizers.
Food Trucks can get special licensing if they are serving truck drivers or first responders.
Refills refills will be relaxed. Pharmacy will be allowed to reissue all prescription
Check this and more at:
http://coronavirus.ohio.gov/odh
Lt Gov. John Husted
Good news from Steris in Mentor received small scale approval to test cleaning N-95 masks. These are small scale that can clean 10 masks in ten minutes.
New protocols on Trains Authority, spacing, cleaning. No one should be on them but essential people go to and from work. They want all to wear masks. For the benefit of everyone wear a mask and practices safe hygiene.
Jobs -
http://coronavirus.ohio.gov/jobsearch
614 employers needing 38,000 employees
Have a peaceful weekend.
Dr. Amy Acton
There are different ways to test, but we still do not have them yet in any number worth reporting.
They are waiting for the quick test, that will tell us who has recovered. That is the important data.
We still cannot test well enough for any large changes in the number.
"All of these numbers are a gross underestimation of the actual numbers." Until we have full and readily available testing we will not know.
For patients and doctors Essential Surgery
1 [/bT]hreat to a patients life
[b]2
Threat of permanent disfunction
3
Threat of progression
4
Threat of rapidly evolving symptoms.
If you are in pain, or have conditions that are worsening go to the emergency room.
Flatten the curve video.
.