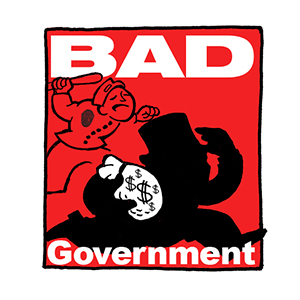 By Brian Essi
(Moderator's note: Lakewood Attorney Brian Essi is meticulously researching the back-room deals that resulted in the closing of Lakewood Hospital. He has written extensively about it for the Lakewood Observer where this article first appeared. He concludes that this is an example of "bad government." Citizens will have their chance to vote on the ordinance which authorized the deal in a referendum on the November ballot. An "against" vote is to nullify the ordinance that passed last December. A "for" vote supports it.
To clarify: The byline at the top of this article defaults to the person who entered the copy. In this case, Brian Essi is the author of the article, while Dan Alaimo entered the story, provided some editing as well as the summary information at the top. - D.A.)
Key points:
• Mayor Summers actively misled City Council and the public about the MetroHealth offers.
• MetroHealth's Director of Business Development Julie Jocono contradicted numerous false claims by Summers that Metro's interest simply "went away."
• Mayor Summers told a story under oath that completely contradicted the express terms of the Metro proposal was to maintaining Lakewood as a full service inpatient hospital; keeping Lakewood Hospital's 900 jobs and tax revenue; and invest $100 million in capital improvements and medical technology.
• Law Director Kevin Butler is advising Council that even if Summers misrepresented and suppressed Metro's offer to operate Lakewood Hospital and illegally steered public assets to CCF, that council should not and cannot do anything about it and the voters can't either.

Key quotes:
• "I think we should be open about the fact that we [Metro] tried and they (the [Summers] selection committee) turned us down. They would rather have an outpatient office with CCF over a hospital with Metro." — Julie Jocono, MetroHealth's Director of Business Development
• "We had two meetings with our narrow strategic group and the Metro group. We never got a written letter of intent from them. There was some serious interest on their part strategically on starting off as a family health center and considering whether or not they would consider running it as a community hospital. It was a very exciting possibility and then at the beginning of October they withdrew their interest. So it went away." — Mayor Mike Summers
• "We have a legal opinion [from Butler] saying the effect of the repeal of the ordinance wouldn't undo the contract anyway." — Councilman Tom Bullock
In a startling admission at a City Council meeting last May, Law Director Kevin Butler said that the truth about Mayor Mike Summers' potentially illegal conduct regarding the MetroHealth offers to operate Lakewood Hospital does not matter.
This was in response to evidence presented by Attorney and Lakewood resident Brian Essi showing that Summers actively misled City Council and the public about the MetroHealth offers.
Amidst the evidence that has surfaced is an internal email from MetroHealth's Director of Business Development Julie Jocono discussing how Metro would respond to a County Councilman inquiry regarding Metro's interest in taking over Lakewood Hospital. Jocono wrote on January 15, 2015 (the date of Summers' public announcement of the hospital closure):
"I think we should be open about the fact that we [Metro] tried and they (the [Summers] selection committee) turned us down. They would rather have an outpatient office with CCF (Cleveland Clinic Foundation) over a hospital with Metro."
Jocono was listed as a key member on Metro's team and was directly involved in Metro's efforts to operate Lakewood Hospital. She squarely contradicted numerous false claims by Summers that Metro's interest simply "went away." It is now clear that Metro's offer was real but the bidding process was a sham process orchestrated by Summers in which the Cleveland Clinic was the only party allowed to bid on a family health center. Subsequent evidence has shown that County officials were enlisted to pressure Metro to back off from the offer, potentially an act of felony bid rigging.
Summers' first public statement about Metro and Lakewood Hospital was
on January 28, 2015
at a public forum at the Beck Center where he was asked by a citizen, Bill Grulich, if he would release the Metro proposal. Summers said:
"We had two meetings with our narrow strategic group and the Metro group. We never got a written letter of intent from them. There was some serious interest on their part strategically on starting off as a family health center and considering whether or not they would consider running it as a community hospital. It was a very exciting possibility and then at the beginning of October they withdrew their interest. So it went away."
(
https://youtu.be/RIgkF7nq3lk?t=1h43m17s
)
Per Jocono, Summers and his secret Step 2 Committee turned down the Metro proposal. (The Step 2 Committee was in charge of the RFP process. Summers picked the members who are Summers, CCF trustees Tom Gable (formerly with Lakewood Hospital and now with Avon Hospital) and Bill Gorton, Dr. Mousab Tabbaa, former LHA chairman who has business dealings with CCF, and Ken Haber, former president of Lakewood Hospital Foundation.
Summers actively concealed Metro's first written proposal from
May 12, 2014
until he was forced, under intense public pressure, to release it in May, 2015. That proposal provided that:
"…MetroHealth is committed to developing a mutually agreeable collaborative arrangement with the City and LHA (Lakewood Hospital Association) whereby it will commit to a long term agreement (including possibly a long term lease) providing for the operation of Lakewood Hospital… MetroHealth is open to scenarios in which MetroHealth alternately enters into a long term operating arrangement replacing The Cleveland Clinic Foundation ("CCF") as the corporate member of Lakewood Hospital Association. Other legal structures including affiliation, merger or sale can be explored in the future…the Hospital's current volume is forecasted to be maintained..."
Summers told a story under oath that completely contradicted the express terms of the Metro proposal when he said: "the City of Lakewood, as a community, would lose total control over those assets, and get nothing in return." Recently supporters of the City's actions claimed that this was a temporary offer to alleviate overcrowding at Metro's main campus.
None of this was true.Now that's bad government.At a May 4, 2015
City Council meeting, Summers denied the existence of a second Metro proposal:
"I am not aware of any second proposal from Metro....I've not seen any proposal."
(
https://youtu.be/n8_IW6IIo8A?t=1h9s
) But Summers personally attended the presentation Metro's second proposal
on September 17, 2014
which was not made public until July, 2015. The second proposal provided for, among other things, Metro:
(1) Maintaining Lakewood as a full service inpatient hospital;
(2) Keeping Lakewood Hospital's 900 jobs and tax revenue.
(3) Investing $100 million in capital improvements and medical technology.
At his
January 20, 2016
deposition Summers testified: "the only interest we had in operating an inpatient model, and it was a very modest interest and a very weakened interest, was from Metro Hospital…Metro Hospital pulled out."
That was not true.
Butler was fully aware of this evidence and more, but advised Council
on May 16, 2016
: "An ordinance has been voted on, a contract is being executed. In my view, it may not make a lot of difference as to whether or not anything that Mr. Essi is saying is true." Also on May 16, 2016, Councilman Tom Bullock echoed Butler's unusual advice: "We have a legal opinion [from Butler] saying the effect of the repeal of the ordinance wouldn't undo the contract anyway."
So the mayor's law director is advising Council that even if Summers misrepresented and suppressed Metro's offer to operate Lakewood Hospital and illegally steered public assets to CCF, that council should not and cannot do anything about it and the voters can't either.
Our city leaders believe that the truth and our votes don't matter.
Now that's really bad government.