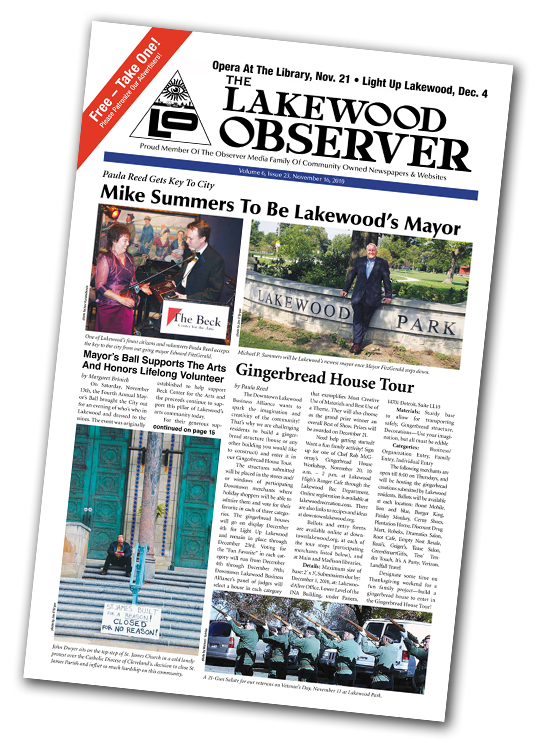 http://media.lakewoodobserver.com/issue_pdfs/Observer_Vol_06_Issue_23.pdf
Online and on newsstands TODAY!
All
This edition also rates as one of my favorites. The paper was all done and going off to
be printed when I got a call that City Council would be voting and probably ratifying that
Michael Summers would be our next mayor. So off we went doing
that late breaking news thing that we have become known for over the past couple years.
So as I spoke with the person on the phone about my long and valued history with Mike
Summers, Margaret and Deb jumped in and within minutes we had the new paper, while
showing respect for those that thought they had a chance throwing their hat into the
mayor's ring.
Michael Summers will be a good mayor, and has the potential to be a great mayor.
This issue looks at the applicants for Mayor and Council. It is amazing that in the end
after the discussions this past year to change the charter process, shot down in council,
and after having to extend the submission process, we were able to come up with a really
great group of people looking to step up and help the city during the year of transition.
Makes me proud. We must continue to grow and nurture these applicants and others
willing to take the job on even if it means less money, stepping back from something you
love and own, because your city needs you and/or your talents.
Myself and everyone at the Lakewood Observer would like to thank all involved with this process.
This issue! Boy oh boy!
Paula Reed Gets Key To City, about time!
Fourth Annual Light Up Lakewood Dec. 4
Gingerbread House Tour!
Lakewood Healthcare News
Beck Center Hosts Holiday High Tea
Eagle Scouts Pain The Beck Center????? Paint?
Mayor's Ball photos
LHS UN Team Reaps Rewards
Garfield and Lakewood Honor Veterans
Lakewood Chamber Of Commerce Window Paint Winners with photos!
Growing Healthy
Close Knit Group of Book Lovers
LCA Open House November 21
Calendar Page by Mel Page
And I finally make Lakewoodites!
Thanks once again to all, especially my crew, which is the best crew in the city week in and week out.
I mean that.
James C. O'Bryan
Publisher
Lakewood Observer, Inc.
http://lakewoodobserver.com
powered by AGS' Ninth Estate Software
Proud Member of The Observer Family Of Community Owned Media
Active Member of The Human Tribe®
Please consider the environment before printing this e-mail.
The information contained in this message may be privileged and confidential and protected from disclosure.  If the reader of this message is not the intended recipient, or an employee or agent responsible for delivering this message to the intended recipient, you are hereby notified that any dissemination, distribution or copying of this communication is strictly prohibited. If you have received this communication in error, please notify us immediately by replying to the message and deleting the original from your computer.  

The typewritten signature included with this e-mail is not an electronic signature within the meaning of Electronic Signatures in Global and National Commerce Act or any other law of similar import, including without limitation, the Uniform Electronic Transactions Act, as the same may be enacted in any State.
PS. BUT, I think I will run for the position this summer.