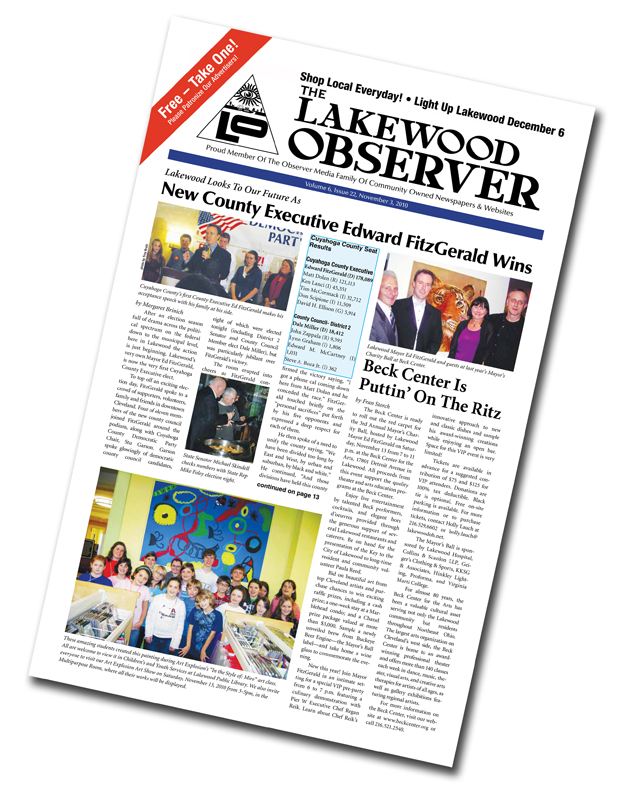 http://media.lakewoodobserver.com/issue_pdfs/Observer_Vol_06_Issue_22.pdf
All
Lakewood Mayor's Edward FitzGerald wins big in his run to be Cuyahoga County's First
County Executive, and this sets in motion many of the things we have covered in the
paper and online over the past couple months.
Who will be our new mayor. Talk on the street is Mike Summers, but we are weeks away from
knowing and the final list of names will not be released until tomorrow? Who will be on that list
and will the newest names on the list actually be allowed into the pool? Does Norah Hurley,
Jenn Pae, or Joe Beno want the job? Talk is MAYBE, not. Though I can easily see one of those
three going, "you know, for nine months..."
Then who goes to the county with Ed? Anyone else on council? Who from City Hall? In his
acceptance speech last night Ed said he had a team ready to go and hit the ground running
that would indicate to me that we might be losing Nate Kelly, Brian Powers, Norah Hurley,
and???? This will be an exciting couple months of transition and we can be sure that some
players in this town are doing everything possible behind the scenes to keep their cushy deals
going as they are now.
Well as always I want to thank my gang especially Margaret Brinich and her life partner
Troy Bratz (well they are not married yet) for work above and beyond the norm going
to the party last night coming home and finishing the paper at 3am! The teamwork
last night from all of the editors and Observers was amazing to be part of again. There
is not a more dedicated team in this city.
So to all Observers thank you.
To my friends Ed, Nickie, Michael who won last night. Please do the best you can and
never forget where you came from, and I know you will not.
Godspeed.
peace
.