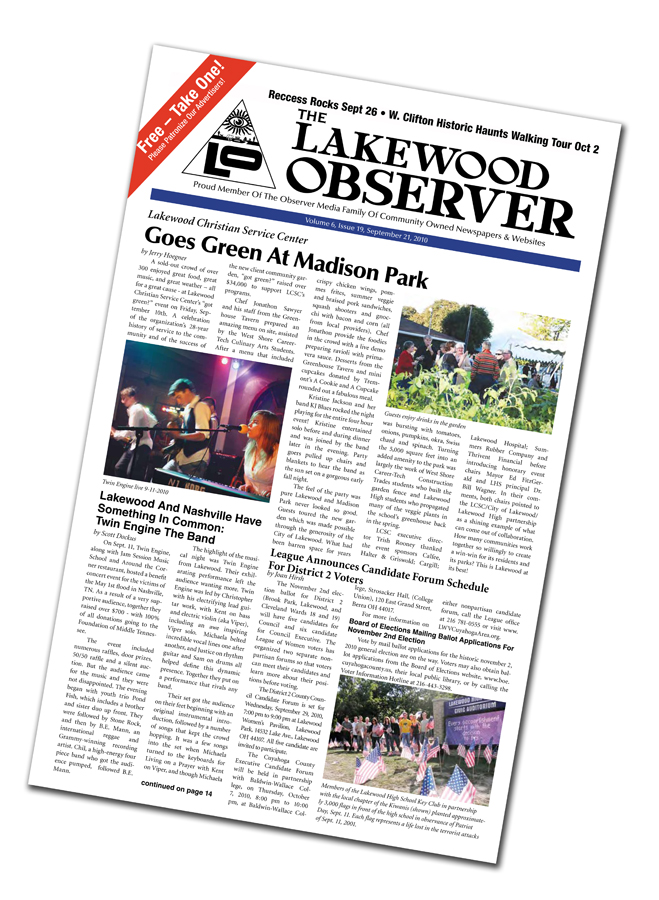 http://media.lakewoodobserver.com/issue_pdfs/Observer_Vol_06_Issue_19.pdf
What a great read.
I am always amazed at how well these come together for the crew.
It is truly magic, some save the software, I would like to believe it is the
people and the great love they have for what they are writing about!
But enough of that.
This one features...
Winterhurst Timeline with note from Mayor Edward FitzGerald. by Margaret Brinch
Our new Lakewood Business Page in cooperation with The Lakewood Chamber of Commerce
Lakewood's entrant in The World Series of Poker - by Patty Harkenrider
Fabulous coverage of the Community Festival, by Mel Page
LaBella Cup Cakes Opening!
The start of Ivor's coverage of OSU games from the alumni in Lakewood.
City Council New by Chris Bindel
911 Driving School Coming To Lakewood High by Beth Kelly
Information on County Executives Matt Dolan and John Zappala
How To Hire A Contractor
Calender Page by Mel Page - Mel's Calendar is one of the most complete in the entire city!
MAKE SURE SHE HAS YOUR EVENT LISTED - IT IS EASY
Just go to
http://lakewoodobserver.com
and click on submit event by the calendar
If it has anything to do with Lakewood, or something Lakewoodites mike like
we want to know about it and help you make it a success!
and those pesky Lakewoodites check out errrrr ahhh err idle cameras - by Rob Masek
and so much more!
More new writers, photographers and contributors to the oldest and most successful civic
journalism in print project in North America!
Isn't it time you jumped in and helped write, photograph, illustrate and amplify Lakewood's
Past, Present and Future?
Once again,
Thank you all
Jim O'Bryan
Lucky to live in Lakewood with neighbors like YOU!