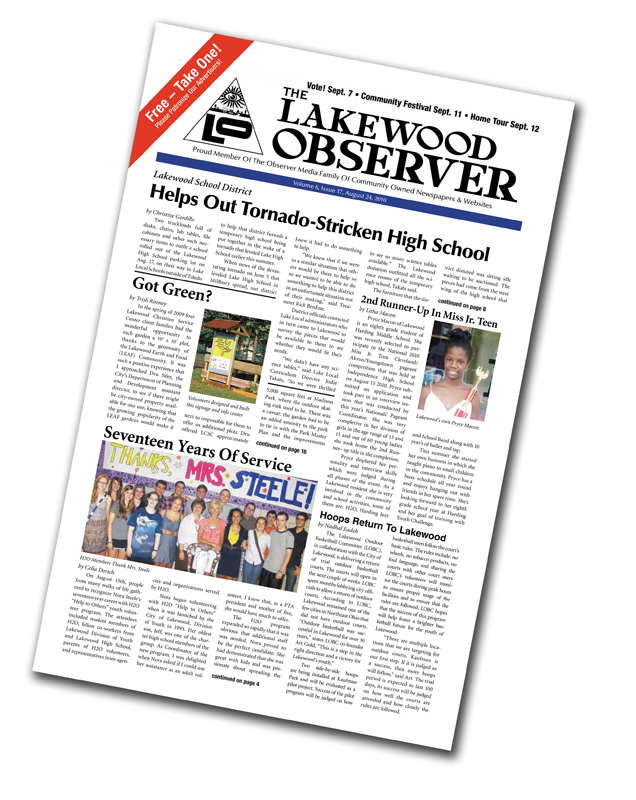 http://media.lakewoodobserver.com/issue_pdfs/Observer_Vol_06_Issue_17.pdf
Well here it is, Lakewood Observer Volume 6 Issue 17.
I would like to thank all of the Observers that take part in this project. It is refreshing to
work with so many people dedicated to getting the news and views of a community out. It
takes special people to work this hard at getting out views you might not agree with, but
know a city is better for vetting the information, and taking part in the public discussion
that follows.
In this issue we see
the fabulous Nora Steele retire from H2O.
Missy starts a new fundraiser for dog and shelters that is sure to grow,
And another look at Lakewood in party season.
Lakewood kids are back to school, so brake for kids.
New teachers but the Lakewood Marching Band had a good day at Cedar Point.
We look at council candidates including our past Planning Director Tom Jordan and Dale Miller.
A look at Tess' Tender Touch.
And we are pleased to announce, a trial plan to bring basketball hoops back to town.
This week, Home Tour and the Patron Party, Lakewood's Community Festival,

DO NOT FORGET TO VOTE.
Thanks again, it is just a pleasure having you all as neighbors.
Speaking of neighbors... four more offspring now in the works, and our international
project out of Indianapolis posted over 150 articles just last weekend alone!
Citizens have the right to talk, and share their news and opinions.
Don't let anyone try to convince you the discussion is bad. Those are the people whose
ideas cannot stand up to the light of day, so they fear the public discussion.
.