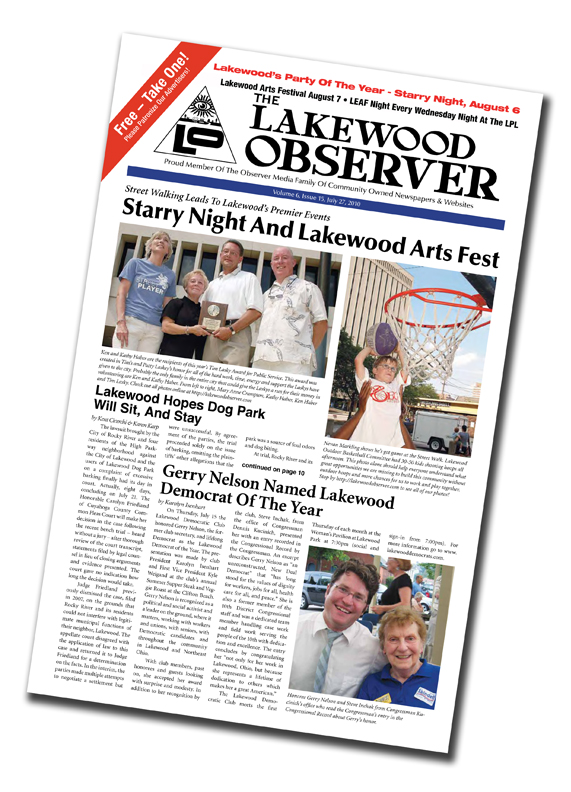 http://media.lakewoodobserver.com/issue_pdfs/Observer_Vol_06_Issue_15.pdf
Here is the latest Observer. This one features the power of this project as the Observers
are working together to get the candidates to come forward and help us understand them
better. As usual we are trying to bring a slightly different slant to the election, but one that
I think you will find refreshing, and informative. The Observer Family of of community
owned media is delivering over 1,million printed copies a year in Cuyahoga County, and
now expanding to all surrounding counties!
I would like to thank Lakewood's Mayor Edward FitzGerald, who has always been a friend
of the Lakewood Observer project, Matt Dolan, Victor Voinovich, and Tim McCormmick for
taking the time to work with the Observer Media Family, while offering to work for all of us
in the county.
I cannot thank my crew at the Lakewood Observer enough, board members,
LOCAL(Lakewood Observer Community Advisory League), and others for helping out.
Deb, Margaret, Maggie, what can I say?
This issue features a pull out guide to the Lakewood Arts Festival.
Candidates For County Executive answer Observer's 11 Questions.
Calendar Page by Page
Library Calendar
Gordon Brumm on LeBron James!
Callentine gets Offensive
Buckeye does to!
Tamilio and Rice take the high road
and a look at Lakewood's Premier Party - Starry Night
.