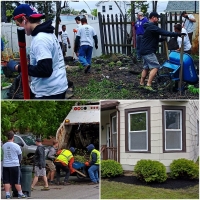 Unseasonable weather certainly wasn't going to stop this group. They boasted strength in numbers and an undeniable determination to make a difference in the community.
A sizable contingency of volunteers from St. Edward High School and Lakewood United Methodist Church gathered in the city's Historic Birdtown Neighborhood on Saturday, May 14, in an effort coordinated by LakewoodAlive. Unfazed by the chilly temperature and periodic rainfall, the group – 75 strong – collectively spent an estimated 300 volunteer hours completing four simultaneous curb appeal projects within the proud, working-class neighborhood.
"We talk all the time about service leadership, about bringing positive energy and being supportive of community members who need help. We really want to be a good steward for our community here in Lakewood," said Rick Kubrak, Director of Service & Outreach at St. Edward High School. "The weather actually cooperated fairly well for us. It sprinkled and misted a bit, but our volunteers were super motivated and able to power through."
The collection of students, parents and alumni from St. Ed's tackled three beautification projects on Coutant Avenue. They mulched flowerbeds, removed debris from a former koi pond and planted hydrangeas and other greenery. Cleaning an overgrown backyard, the volunteers filled two tree lawns with refuse for the City of Lakewood to dispose of – all while preserving existing flowering trees.
Read Full Story
Volume 12, Issue 11, Posted 4:51 PM, 05.24.2016