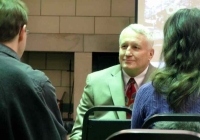 During the past five years, Lakewood has become a desired destination for Millennials and empty-nesters alike — and everyone in between. Property owners have spent $10 million in each of the past two years fixing up their homes and buildings.
There's been more than $100 million in commercial development investments since 2011 — that doesn't even include the schools construction.
The city has significantly improved infrastructure, including parks, streets, bike infrastructure and sidewalks.
Read Full Story
Volume 11, Issue 14, Posted 4:33 PM, 06.23.2015