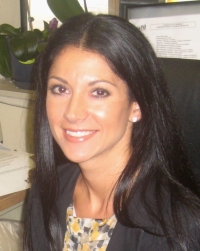 At a special meeting on April 3, the Lakewood Board of Education approved current Director of Teaching & Learning Roxann Ramsey-Caserio as the district's next assistant superintendent, effective Aug. 1, 2014. Ramsey-Caserio will replace Kevin Bright, who submitted his resignation in March.
Ramsey-Caserio has been with the district since August 2009 when she joined Lakewood City Schools as Coordinator of Teaching & Learning K-12. In 2011, she left central administration to become principal of Grant Elementary School. She returned to leading the district's curriculum strategies in August 2013 when she became Director of Teaching & Learning, K-12.
"Roxann Ramsey-Caserio has proven herself at both the building and central office levels in our school district," said Superintendent Jeff Patterson. "Last year, under her leadership, Grant Elementary School was given the prestigious distinction of being one of only 141 schools in the State named as a 'School of Promise' by the Ohio Department of Education for closing the achievement gap."
Patterson also praised Ramsey-Caserio's leadership of the district efforts to align with the new Common Core State Standards.
"As the Director of Teaching & Learning for the district, Roxann has provided tremendous leadership by implementing two major initiatives: Columbia Reading and Writing and Marilyn Burns Math Solutions. We look forward to great things for our district as Roxann advances into the role of Assistant Superintendent," he said.
Read Full Story
Volume 10, Issue 8, Posted 2:32 PM, 04.15.2014